A0088

...

Rifled artillery projectile, Read design, Confederate manufacture, bursting shell, long pattern with smooth sides milled sleeve, pointed nose, thick copper ring sabot not milled and not pre-rifled, wood time fuze, Confederate 20 pounder rifle, 3.67in

. Projectile was Confederate manufactured during the war. Read developed this copper sabot, it was more flexible than the earlier wrought iron sabot. A smooth sided long shell was produced by both sides, this Confederate version is distinguished by a lathe dimple in the base, a casting sprue on the nose, and the smooth sides were finished by turning on a lathe. The shell was lathe turned, a slightly deeper cut was made at the top and the bottom leaving the impression of a "sleeve" the depth and dimension will vary considerably and is likely the result of operator variation in the finishing process. Copper ring sabot is tapered at the top and seated in a deep groove well inside of the iron base, ring was cast thick, this model was not milled and not pre-rifled. Fuze employed was a wood time fuze, Jones Fuzes pg. 2, fuze hole is smooth and tapered, the simple to make fuze could easily be hammered into place.
Reference: Dickey & George, Field Artillery (1993 Edition), pg. 284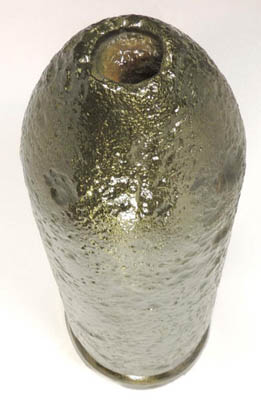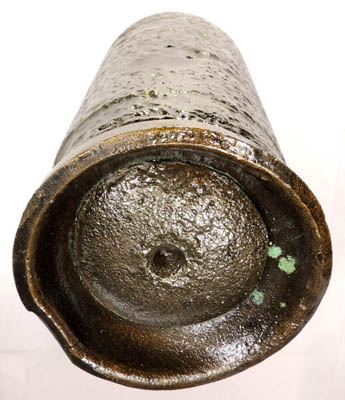 Projectile measures: diameter 3.63in., length 10.25in., weight 16lbs. Sabot is fired and spread to a larger diameter during firing but was too thick to take the rifling. Wood time fuze is partial. Metal is solid. Projectile is disarmed, open fuze hole exposes empty interior. Recovered: Grand Gulf, Mississippi


For sale

............ ....$450.
Details click: http://relicman.com/artillery/RelicmanSalesArtillery-A0088.html.