A0300

...

Rifled artillery projectile, Parrott design, Federal manufacture, bursting shell, long pattern "common" (standard), high band scalloped or corrugated brass ring sabot, Parrott percussion fuze West Point Style, Parrott 20 pounder rifle, 3.67in

. Projectile was manufactured in the Federal arsenals following the invention of Robert Parrott. The sabot system utilized was an early development of the high band sabot, this pattern with the scalloped or corrugated shaped edge is now determined to be a prototype preceding the high band Type II Parrott sabot, it was apparently tested briefly and abandoned. All projectiles of this sabot type are "common" shell, (standard), not containing balls, and with a percussion fuze it was designed to detonate after striking enemy cannon or equipment. Fuze employed was a Parrott zinc percussion fuze, "West Point" style two part fuze, Jones pg. 79, fuze hole will have a thin milled lip. Bottom of shell usually shows a casting sprue which was rough milled.
Reference: Dickey & George, Field Artillery (1993 Edition), pg. 227.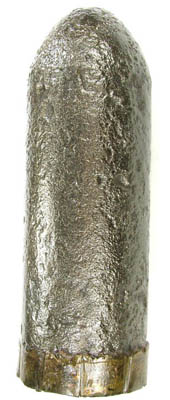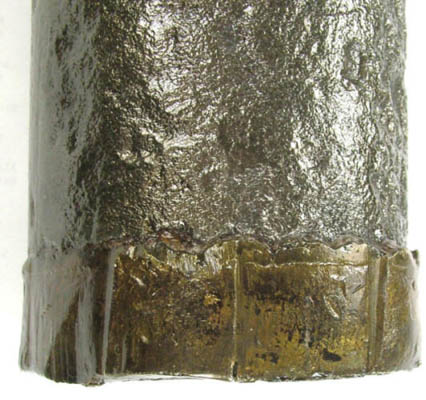 Projectile measures: diameter 3.65in., length 10.5in. (excluding fuze), weight 16.6lbs. Fired sabot intact showing 5 lands and grooves. Parrott percussion fuze is partial. Metal quality strong, with areas of pitting. Projectile is disarmed, drill hole through the bottom. Recovered: battlefield or test range not known, rare shell.


For sale

............$350.
Details click: http://relicman.com/artillery/RelicmanSalesArtillery-A0300.html.