A0323

...

Rifled artillery projectile, Selma Arsenal design, Confederate Selma manufacture, solid bolt, pattern with bourreleted rings pointed nose, short pattern, copper disc sabot, Confederate rifle, 3.67in

. Projectile is Confederate manufactured at the arsenal at Selma, Alabama. The pattern utilized a thick copper disc sabot cast around a clover leaf post on the bottom of the shell. Most production was originally stamped with "G" denoting Selma, the stamping is usually on the sabot but is sometimes weak. This pattern utilized two bourrelet rings, as a labor saving device, only the rings had to be accurately machined, the rest could be left rough. Nose is pointed, twine was placed in the groove above the sabot.
Reference: Dickey & George, Field Artillery (1993 Edition), pg. 319.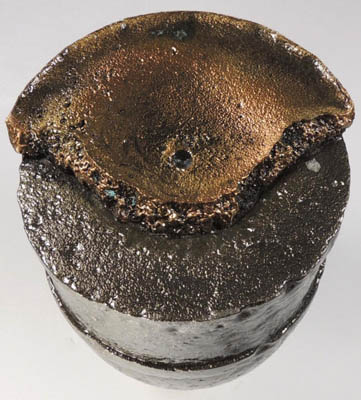 Projectile measures: diameter 3.6in., length 5.75in., weight 10lbs. Sabot is fired showing 15 lands and grooves, distortion from firing and is partial, it appears this projectile was fired from a captured James Rifle, which would have been slightly too large, so the rifling is weak. Projectile is disarmed: casting is solid iron. Recovered: Spanish Fort, Alabama.


For sale

............$750.
Details click: http://relicman.com/artillery/RelicmanSalesArtillery-A0323.html.