A1631

...

Rifled artillery projectile, Hotchkiss design, Federal manufacture, solid bolt, pattern without flame grooves, pointed nose with deep hollow cup , lead band sabot, James 14 pounder rifle, 3.8in

. Projectile was manufactured in the Federal arsenals following the invention of Andrew Hotchkiss. The pattern consisted of three parts, a nose section containing the explosive charge, a cast iron cup fitted on the bottom, and lead band sabot cast around the middle, on firing the cup would compress the lead band sabot expanding it into the rifling. Shell is solid casting, or "bolt" and was designed to be used against opposing cannon by striking the equipment, use of this light bolt had limited applicability and is relatively scarce in the smaller calibers. Nose of this pattern is pointed, with a deep cup or hollow area in the lower part of the nose, this was probably an effort to shift the center of gravity forward. Hotchkiss patent date was cast, not stamped, into the base, "HOTCHKISS PATENT OCTOBER 9, 1855 / MAY 14, 1861", and is typically weak.
Reference: Dickey & George, Field Artillery (1993 Edition), pg.171.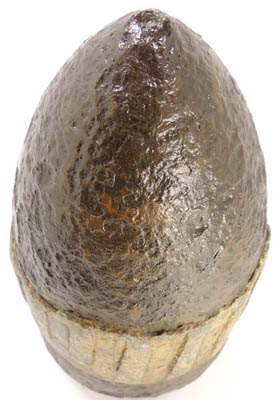 Projectile measures: diameter 3.7in., length 7.0in. (excluding fuze), weight 13.7lb. Lead band sabot shows 15 lands and grooves, fired from James 14 pounder rifle. Projectile is disarmed: casting is solid iron. Recovered: Monet Ferry, Louisiana.


For sale

............ $425.
Details click: http://relicman.com/artillery/RelicmanSalesArtillery-A1631.html.