---



Fakes, reproductions, replicas,
an investigative report, by Harry Ridgeway
---
Fakes, reproductions, replicas,
Disclaimer: by clicking onto this page you are expressly accepting the terms of the disclaimer explained fully on the fakes main page.
---
FP0968 CS two part buckle, "Haiman" style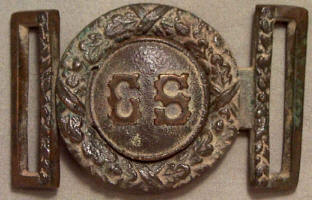 Two part buckle manufactured by Haiman, known for unique style of lettering, pronounced vent and dip in the back of the tongue. Beautiful dug example, both halves dug together. Wonderful example of casting sprue on both pieces, typical of Haiman construction.
Recovered: Knoxville, TN
Tongue keeper 47.2mm
Wreath keeper 48.7mm
Wreath height 49.4mm
Editor note: This plate was sold by me in 2003 and recalled in 2007. It was recalled because of the similarity to the Hanover Brass buckle above. I originally bought the buckle from a reputable dealer who says he bought it from a reputable collector in eastern Tennessee. That collection did not include other fakes and the collector claimed at the time that he dug the piece. Since then he has died, and is therefore proving difficult to interview.
This buckle was sold by me in 2003, I had every reason to believe it was good, it eventually landed in the hands of a Tennessee dealer and along the way picked up a Mullinax letter certifying its authenticity. I had also asked second opinions from several collectors when I bought it, all were positive. I recalled the buckle, (paid the people I sold this to) and the dealer who supplied me paid me, so everybody except the maker has been honorable. Who made this buckle or is it really a fake? I might note that the measurements for this buckle measure considerably larger than those stated on civilwarfakes.com, and is larger than the example below.
As a follow up, I am told by the collector who sold this to me (and who has bought the piece back) that this piece has now been traced back to the originator, who resides in the Richmond area and is well known to be active in the fakes business. This case is being pursued, more details will be made public eventually, I hope but the investigation of this fake is being pursued by others at this point.
---