---



Fakes, reproductions, replicas,
an investigative report, by Harry Ridgeway
---
Fakes, reproductions, replicas,
Confederate Infantry cast block I Buttons, Albert CS184
Disclaimer: by clicking onto this page you are expressly accepting the terms of the disclaimer explained fully on the fakes main page.
---
---
Original is cast, and is the dominant Confederate button found in the north Georgia campaign.
---
F1054 Cast I buttons manufactured by Hanover Brass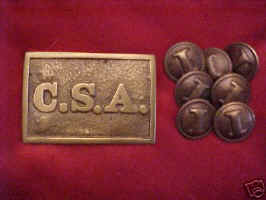 "This reproduction CSA Virginia style plate was cast from an original. This was a popular type used during the Civil War. This auction includes 7 Cast I (Infantry) uniform coat buttons also reproduction and sand cast in red brass and hand finished by Hanover Bras Foundry. Buckle also cast in red brass for a matched set. Wearable or wonderful Collection Display."
Source: ebay auction by jaglady00 4/21/06 "1861-1865 Virginia CSA Belt Buckle Plate includes 7 Cast Infantry buttons Item number: 6622556752"
Editor note: "jaglady00" is Hanover Brass, items sold as reproductions.
---
F1461 Confederate cast I button, manufactured by Historical Reproductions


Button measures 22.5mm
Editor note: Plate was obtained directly from Historical Reproductions, Jeff Posey, as a sample of his production to be used in this presentation. Maker marks are present but they are weak.
---
F1232 Confederate Infantry cast Block "I" button, manufactured by Tim Parsley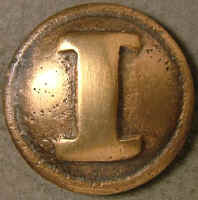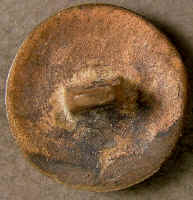 Button measures 22mm
Editor note: Button was obtained directly from Tim Parsley.
---
F1117 Confederate Infantry cast Block "I" button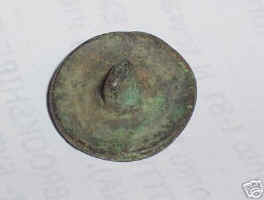 "WOW......................... TAKE A LOOK HERE, WHAT WE HAVE HERE FOR AUCTION IS A SUPERB EXCAVATED EXAMPLE OF A AUTHENTIC CIVIL WAR CONFEDERATE CAST I INFANTRY BUTTON. THIS IS PART OF A DUG COLLECTION FROM SOUTH CAROLINA AND NORTHERN VIRGINIA THAT I WILL BE SELLING OFF IN THE MONTHS TO COME. THIS IS A NICE PIECE HERE AND IT IS PRICED TO MOVE, SATISFACTION GUARANTEED, 3 DAY INSPECTION PERIOD ,M US SHIPPING WILL BE $3.00
source ebay auction July 06 by vintage_comics_and_collectibles: AUTHENTIC CIVIL WAR CONFEDERATE CAST I INFANTRY BUTTON Item number: 250004199449
Editor note: This seller sells on ebay auction under "Private Auction". It is highly doubtful this piece can be shown to be authentic.
---
[Return to relicman main page, (real stuff), enough of these fakes!]