---



Fakes, reproductions, replicas,
an investigative report, by Harry Ridgeway
---
Fakes, reproductions, replicas,
Confederate staff, fantasy buttons
Disclaimer: by clicking onto this page you are expressly accepting the terms of the disclaimer explained fully on the fakes main page.
---
---
Items shown on this page have no counterparts in the literature of period pieces. In other words, nothing like this was believed to have existed during the Civil War, these are referred to as "fantasy" pieces, meaning modern "artistic" productions of items that could be imagined to have been used in the Civil War but were not.
---
F1196 Droop wing eagle button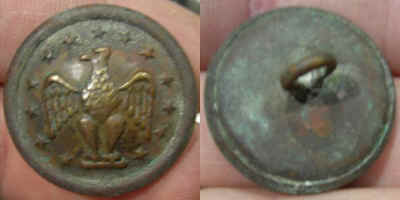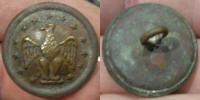 Picture was submitted to CWC for evaluation 9/16/06
Editor note: This appears to be a modern reproduction, chemical aged. I am not aware of any Confederate buttons bearing this motif, nor any 1860's buttons with this type of back and shank.
---
[Return to relicman main page, (real stuff), enough of these fakes!]