---



Fakes, reproductions, replicas,
an investigative report, by Harry Ridgeway
---
Fakes, reproductions, replicas,
Firmin "restrikes" and repros
Disclaimer: by clicking onto this page you are expressly accepting the terms of the disclaimer explained fully on the fakes main page.
---
---
Firmin & Sons of England was one of the highest quality manufacturers of Confederate buttons during the Civil War. They produced Navy, staff and other buttons, that are very desirable and high value. Firmin is still very much in the business of producing buttons and the following was a proposal received from them in
---
F1194 Firmin restrikes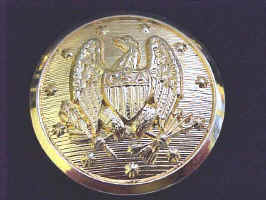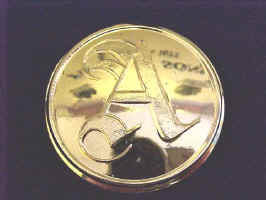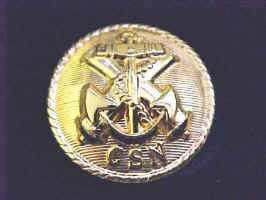 "I located your details from the internet. You are no doubt familiar with the Firmin name. We are manufacturers of buttons and other insignia, and are the UK's oldest manufacturing company, having been established in 1677. I have attached a short resume of our company we use at various exhibitions to give you some more background information.
Amongst our collection of dies we still hold some of the original ones made in the1860's for a range of Civil War buttons, and from these we have made sets of 6 different buttons using the same methods of manufacture and materials which are supplied as boxed sets with a certificate of authenticity from the company. Please see the photos attached.
We often receive enquiries from collectors and museums, but as bulk manufacturers we are not really set up to service these types of enquiry. Ideally, what we are looking for is someone to act as a distributor for us, who knows and understands the market. Is this proposition something that could be of interest to you?
We would like to sell not less than 50 sets at a time. When we sell them as individual sets we charge Sterling 50.00 per set (about $75.00). For 50 sets we would offer a price of Sterling 35.00 ($52.50). Other than the pure collector market for these types of products, I see them as quality gift type items for sale for example at historic sites or other relevent visitor outlets. Are you in touch with this area of the market?
If you are interested in working with us we would obviously come to an agreement whereby we would refer any US enquiries back to you. If you feel you are perhaps not in a position to go forward with this, I would be most grateful if you could let me have your thoughts on this idea and other suggestions for a suitable marketing strategy.
I look forward to hearing your comments. Kind regards,"
Source: the above was from an email from Firmin received in 2002, explaining their program of restriking these buttons and selling collector sets.
The following background information about Firmin was provided:
"Established in 1677, Firmin & Sons Plc is the tenth oldest company in England. Having served every reigning monarch since the 1750's, Firmin & Sons is one of the longest continuous holders of the Royal Warrant of Appointment.
We specialise in the production of buttons, badges, swords, medals, accoutrements, regalia and uniforms from high ceremonial wear to barrack dress. Many of the skills employed are passed on from generation to generation and our experienced craftsmen work in gold, silver and other metals and enamels, right through to lace and other textile products.
The pedigree of the company is steeped in history; our products have seen service with Lord Nelson at Trafalgar, the Duke of Wellington at Waterloo, the American War of Independence, The Charge of the Light Brigade, The American Civil War through to the troops in the Gulf conflict right up to the present day.
The company's products have become icons of British uniform design and include the helmets and breastplates worn by the Household Cavalry, the extensive chromeware on Police uniforms, OBE and MBE medals as well as the solid gold medals presented to the winners of the FA Cup Final.
We have unparalleled experience in designing and meeting the uniform and accoutrement needs of armed services and governments worldwide and our stand shows just a small selection of products we have made for various governments around the globe."
I asked about backmarks for these buttons and they supplied the following pictures: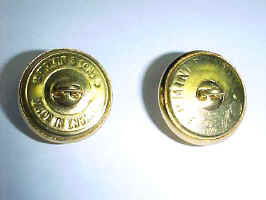 "Thank you for your reply and potential interest in this project. Attached is a picture of the two backmarks which appear on the buttons in question. Two of the 6 have the full logo, wheras the other 4 have just the Firmin name. We only have limited stock (about 100) of these sets (made in 1998) so we could use any of our range of backmarks for new manufacture.
In answer to your question, there are in fact only minor differences between those made now and those made last century. We are using the original dies, the basic materials and methods of production are pretty much unchanged. We now use the backmarks as shown by the photo which are different and the shank is now put on by an automatic machine instead of a hand shank. Automatic ones tend to be a little shorter than the old hand shanks. Also it is possible (I'm told) that back last century they were possibly fire gilded, whereas today we electro gild - what the perceived difference is I can't say.
If you feel there is potential I would be happy to send you a set to have a look at and make your own conclusions.
Best regards,"
Editor note: Although I declined to market these collector sets, presumably Firmin is selling them and some of the faces are exceptional. Thankfully the backmarks and shanks are modern and therefore are very distinguishable from the authentic buttons. All of these pictures were supplied by Firmin as a sales promotion. I put this up simply so that the collector will be informed of the existence of these buttons. Any informed study of backmarks will easily distinguish these buttons.
---
[Return to relicman main page, (real stuff), enough of these fakes!]