---



Fakes, reproductions, replicas,
an investigative report, by Harry Ridgeway
---
Fakes, reproductions, replicas,
Confederate canteens, various metal and wood canteens
Disclaimer: by clicking onto this page you are expressly accepting the terms of the disclaimer explained fully on the fakes main page.
---
---
Confederate drum canteens can either be made from sheet iron or wood. They are highly prized and because they are craftsman individually constructed, they are a favorite target for fakers.
---
F1154 Fantasy tin canteen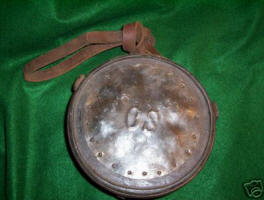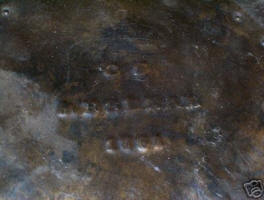 "AUCTION IS FOR A VERY RARE SMALL 1861 CONFEDERATE CIVIL WAR CS ARSENAL CANTEEN. NICE PIECE, LEATHER STRAP AND VERY CRUDELY MADE AS WERE MOST ALL CONFEDERATE PIECES. THIS IS A UNIQUE PIECE AS IT HAS A MINI BALL BULLET INSIDE THE PIECE. PLEASE EMAIL WITH ANY AND ALL QUESTIONS, ALL SALES ARE FINAL, US SHIPPING WILL BE $10.00"
Source: ebay auction by vintage_comics_and_collectibles, 7/4/06, "1861 CONFEDERATE CIVIL WAR CS ARSENAL CANTEEN Item number: 250002505465"
Editor note: sheesh, to critique this item would infer more status on this piece than it deserves!
---
F1170 Fantasy wood canteen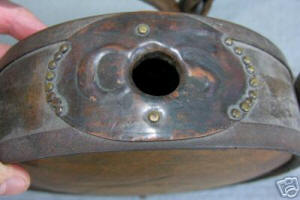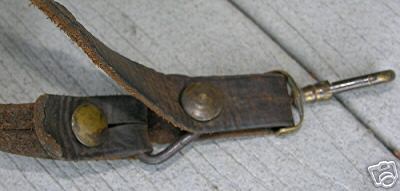 "AUCTION IS FOR A EXTREMELY RARE AUTHENTIC ID'D CIVIL WAR CONFEDERATE GARDNER CANTEEN. THE PIECE IS IDENTIFIED TO A H.H. HAYES OF THE 26th NORTH CAROLINA INFANTRY. I COULD NOT FIND MUCH ABOUT THE SOLDIER ACCEPT FOR HIS INLISTMENT IN THE REGIMENT. THIS IS IN VERY NICE SHAPE FOR ITS AGE AND HAS BEEN ELABORATELY DESIGNED AND DECORATED. MORE THAN LIKELY AFTER THE WAR OR DURING ENCAMPMENT THROUGH THE WINTER WITH TIME ON HIS HANDS, HAYES CARVED THE DETAILED CONFEDERATE FLAG IN THE SIDE OF THE CANTEEN ALONG WITH HIS NAME AND HAS AFIXED A CS EGG BUCKLE TO THE TOP OF THE CANTEEN AT THE MOUTH PIECE, THIS IS A VETERAN ALTERATION. EVERYTHING IS 100% CORRECT AND ON THE BOTTOM OF THE CANTEEN ( AS PICTURED) YOU CAN NOTICE A SLIGHT REPAIR TO THE CANTEEN EITHER MADE IN THE FIELD OR POSSIBLY AT A LATER TIME, BUT IS A OLD REPAIR. I CANNOT BRAG ON THIS PIECE ENOUGH. THIS IS THE PRIME PIECE FROM A VERY PROMINANT CIVIL WAR COLLECTION I RECENTLY ACQUIRED ANDF THE CANTEEN WAS TOLD TO BE PURCHASED FROM THE BRUNK AUCTION HOUSE BACK IN THE EARLY PART OF 1999. PLEASE EMAIL WITHANY QUESTIONS ABOUT THIS REMARKABLE PIECE. CANTEEN IS 100% GUARANTEED GENUINE FOR LIFE W/ A 7 DAY INSPECTION PERIOD UPON RECEIPT OF THE ITEM W/ A UNCONDITIONAL MONEY BACK GUARANTEE. US SHIPPING WILL BE $20.00 INSURED PRIORITY MAIL W/ CONFIRMATION ONLY, THANKS FOR LOOKING AND GOOD LUCK..................................... The 26th Infantry Regiment was organized in August, 1861, at "Crab Tree," a plantation three miles from Raleigh, North Carolina. Its members were recruited in the counties of Ashe, Union, Wilkes, Chatham, Wake, Caldwell, Moore, Alamance, Randolph, and Anson. The regiment served at Fort Macon, on Bogue Island, North Carolina, then fought at New Bern. During the war it was assigned to General R. Ransom's, Pettigrew's, Kirkland's, and MacRae's Brigade. It saw action in the Seven Days' Battles and later the conflicts at Rawls' Mills and Goldsboro. The 26th went on to fight with the Army of Northern Virginia from Gettysburg to Cold Harbor , took its place in the entrenchments south of the James River, and was involved in the final campaign at Appomattox . It lost 87 killed or wounded at New Bern , had 6 killed and 40 wounded during the Seven Days' Battles, and of the 843 engaged at Gettysburg , more than eighty percent wer disabled. The unit reported 16 killed and 83 wounded at Bristoe and on April 9, 1865, surrendered 10 officers and 120 men."
Source: ebay auction by vintage_comics_and_collectibles, 7/30/06, "AUTHENTIC ID'D CIVIL WAR CONFEDERATE GARDNER CANTEEN IDENTIFIED TO H.H. HAYES OF THE 26th NORTH CAROLINA INF Item number: 250011505841"
Editor Note: Damn, another one of these fine canteens! And from the same seller, hm.............. I'll give him this much, they are creative. Pure "fantasy"
---
F1201 Fantasy wood canteen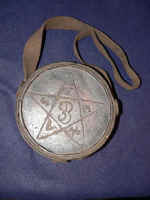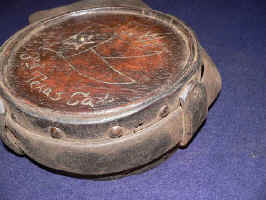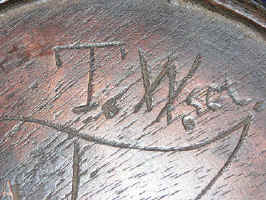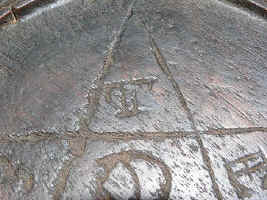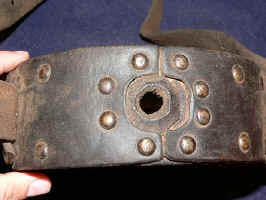 "At auction is an original Civil War artifact. A cedar wood canteen from the 3rd Texas Cavalry. All hand made and hand carved designs. Identified to Sgt. TW of the 3rd Texas. Wood is in excellent condition, no signs of serious rotting or decay. Leather sling and wrap are strong, brass tacks adorn the perimeter. One of the finest canteens I have ever seen.
Brief history of the 3rd Texas Cavalry
Organized at Dallas on June 13, 1861. Mustered into Confederate service at Dallas on June 13, 1861. Dismounted in April 1862. Remounted in late October 1862. Surrendered by Lieutenant General Richard Taylor, commanding the Department of Alabama, Mississippi, and East Louisiana, at Citronelle, Alabama on May 4, 1865.
Officers: Elkanah Greer (Colonel), J. J. A. Barker (Major), Giles S. Boggess (Major, Lieutenant Colonel), George W. Chilton (Major), Robert H. Cumby, Lieutenant Colonel, Colonel), J. A. Harris (Major), Walter P. Lane (Lieutenant Colonel), Hinchie P. Mabry (Lieutenant Colonel, Colonel), Absalom B. Stone (Major).
Battles: August 10, 1861 Wilson's Creek, December 26, 1861 Chustenahlah, Indian Territory [five companies], March 7 - 8, 1862 Pea Ridge, April - June 1862 Corinth Campaign, September 19, 1862 luka, October 3 - 4, 1862 Corinth, December 3, 1862 Oakland [skirmish], December 20, 1862 Holly Springs, December 21, 1862 Davis' Mills, March 5, 1863 Thompson's Station, May - July 1863 Vicksburg Campaign, July 1863 Jackson Siege, December 24, 1862 Middleburg, February - March 1864 Meridian Campaign, March 30, 1864 Snyder's Bluff, April 19, 1864 Marion County, May - September 1864 Atlanta Campaign, July - September 1864 Atlanta Siege, July 28, 1864 Flat Shoals, July 30, 1864 Brown's Mill, July 30, 1864 Newnan, October 1864 - January 1865 Franklin - Nashville Campaign. Canteen measures about 7.5" in diameter and canteen is 3" thick. Winning bidder has a 10 day inspection period. No reserve. Send me an offer if you like. Please bid with confidence, this canteen is right as rain!
I will accept certified funds for payment. Money order or cashier check. I will also accept a personal check but must have a short waiting period for the check to clear the account. I am sorry but I do not accept Paypal. Shipping and handling cost is $10 to the USA. Insurance is required and will be calculated at the close of the auction. International bidders are encouraged to bid. I will answer any quesions you may have, just email me. Thanks for your attention and good luck."
Source ebay auction by 10/18/06 myoldrelics ( private )" Civil War 3rd Texas Cavalry Wood Canteen Confederate Hand Carved Soldier ID Sgt TW Flag100% Original Relic Item number: 130036200434"
Editor note: This seller sells on ebay auction under "Private Auction". It is highly doubtful this piece can be shown to be authentic.
---
[Return to relicman main page, (real stuff), enough of these fakes!]