---



Fakes, reproductions, replicas,
an investigative report, by Harry Ridgeway
---
Fakes, reproductions, replicas,
CS two part plates, fantasy patterns
Disclaimer: by clicking onto this page you are expressly accepting the terms of the disclaimer explained fully on the fakes main page.
---
---
Items shown on this page have no counterparts in the literature of period pieces. In other words, nothing like this was believed to have existed during the Civil War, these are referred to as "fantasy" pieces, meaning modern "artistic" productions of items that could be imagined to have been used in the Civil War but were not.
---
F1208 "CS" two piece buckle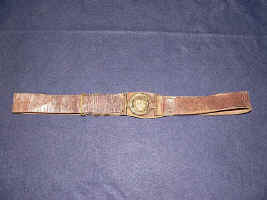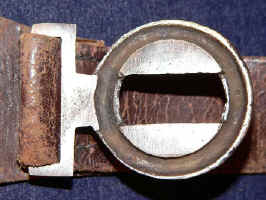 "At auction is an original Civil War Confederate belt rig. A tongue and wreath CS belt plate on an original leather belt rig and hooks. Correct patina on the plate. Originates from an estate in northern Virginia. 30" belt, plate is 80mm wide A great addition to your collection. Please email me with any questions before you bid.
ISALEFORYOU is a consignment business bringing our customer's antiques to the internet. Please check back often!
Shipping & handling to the USA is $6 well packed. I accept Paypal (confirmed address only), money order, or cashier's check. Insurance is required for $1.50 Ask all of your questions before you buy. Thank you for your patronage."
Source: ebay auction by isaleforyou ( private ) 10/5/06: "Confederate CS 2 Piece Plate & Original Leather Belt Item number: 200032285948"
Editor note: This seller sells on ebay auction under "Private Auction". Usually a date stamped in the rear like this is from a modern producer marking his wares to warn collectors. It is at best an "unknown" pattern, but most likely a fantasy dating after 1960. It is highly doubtful this piece can be shown to be authentic.
---
F1141 Confederate buckle fantasy buckle, made from Albert CS1 button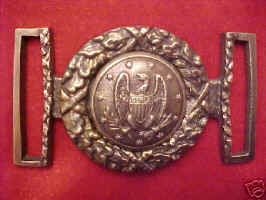 This reproduction CSA/button buckle is made to fit dress jeans. It takes a one inch belt. It is a great looking belt plate and very small. I was asked to list a two piece for dress wear and here it is.It has great detail and solid yellow brass.
Source ebay auction by jaglady00 May 22, 2006 "CSA/Button two piece belt buckle plate one inch belt size Item number: 6630690019"
Editor note: "jaglady00" is Hanover Brass, items sold as reproductions. The plate is a fantasy, a purely artistic creation by Gary Williams. Confederate officer button, Albert CS1 was used as a pattern. The buckle is also made in "button" size, way too small for the period. It looks great on a ladies dress or a men's dress pants, or will work as a conversation piece, but it has no place in a collection of authentic Confederate plates.
---
[Return to relicman main page, (real stuff), enough of these fakes!]