---



Fakes, reproductions, replicas,
an investigative report, by Harry Ridgeway
---
Fakes, reproductions, replicas,
CS two part plates, exaggerated serif, Confederate plate 006
Disclaimer: by clicking onto this page you are expressly accepting the terms of the disclaimer explained fully on the fakes main page.
---
---
Original of this piece is noted for exaggerated serifs, convex curve, and stepped up tongue.
---
F1003 Virginia style CS two piece buckle, serif style, manufactured by Hanover Brass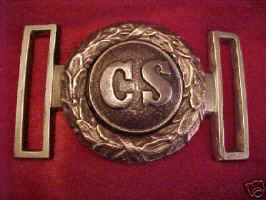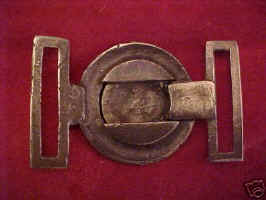 "This reproduction CS Serifs style Two Piece is a MUST for anyone who enjoys civil war belt buckles. It is cast from red brass. The Confederate foundries lacked the zinc that was used to turn the copper yellow. Has original look. The original was dug from private land in White Oak Swamp battle area by Gary Williams, veteran relic hunter.. A beautiful CS two piece."
Source: jaglady00 ebay auction 3/12/06 "CS 2-Piece (Serifs Style) Belt Buckle Plate Larger of the Richmond type Item number: 6611624338"
Editor note: "jaglady00" is Hanover Brass, items sold as reproductions.
---
F1278 CS two piece, pronounced serif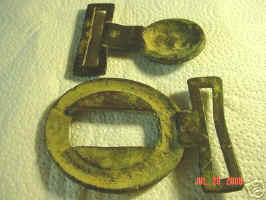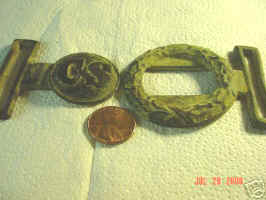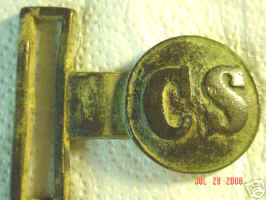 Auction is for a confederate civil war 2-pc ringed wreath belt plate.Loop on the right side has some ground action as it has a slight inward bend.Original patina still intact as i have not cleaned this item.Pictures will not look as good on ebay but i am leaving it in this condition as if you want to clean it,you can.Everything about this buckle is correct and I am sure it will please.I find these myself here in Tenn and also have 2 others that i recently found.I am keeping the other two for my personal collection and selling this one to finance other digs. Dimensions of this dug piece are as follows in mm-- wreath ht. 50mm , 49mm [47mm tongue] x 82 mm. Rarity is listed as a 7 with 10 being the rarest. This piece can be found in Confederate Belt Buckles & Plates on page 12, plate 005. Item's value is over 2800 dollars at today market and climbs every year. This piece speaks for itself and is extremely rare. Offered here well below what this item is worth.Thanks for looking.
Source: ebay auction by cooley555 1/17/07: "Civil War Belt Buckle [Virginia] orginal condition Item number: 120011404965"
Editor note: Gary Williams stated on his forum "It is cstp4 under two piece buckles.. all the flaws on the back of the wreath match." The plate is not marked in any way that I can see. I find no marks on the example shown on civilwarfakes.com. Maybe somebody can explain why the HB production needs to be so nearly exact with the real buckle and why they don't mark their buckles to keep the collector from being fooled.
---
[Return to relicman main page, (real stuff), enough of these fakes!]