---



Fakes, reproductions, replicas,
an investigative report, by Harry Ridgeway
---
Fakes, reproductions, replicas,
CS two part buckle, fat letters, Confederate plates 019 to 024
Disclaimer: by clicking onto this page you are expressly accepting the terms of the disclaimer explained fully on the fakes main page.
---
---
This category is applied to a broad group of cast CS buckles with fat letters.
---
F1180 CS two piece officer buckle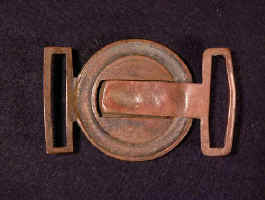 "At auction is an original dug CS Confederate belt plate in fine condition. Dug on private property in Knoxville, Tennessee. A rare one. Beautiful brown patina. Authentic belt plate from the Civil War. A great addition to your collection. Please email me with any questions before you bid. ISALEFORYOU is a consignment business bringing our customer's antiques to the internet. Please check back often!"
Source: ebay auction by isaleforyou, 7/20/06, "Original CS Confederate 2 Piece Belt Plate Knoxville Item number: 200006894996"
Editor note: This seller sells on ebay auction under "Private Auction". It is highly doubtful this piece can be shown to be authentic.
---
[Return to relicman main page, (real stuff), enough of these fakes!]