---



Fakes, reproductions, replicas,
an investigative report, by Harry Ridgeway
---
Fakes, reproductions, replicas,
CS two part buckle, coin style, Confederate plates 054 to 056
Disclaimer: by clicking onto this page you are expressly accepting the terms of the disclaimer explained fully on the fakes main page.
---
---
Original is noted for small "coin style" disc inside an oversized wreath, crude casting, the tongue bar is very small and often is broken.
---
F1028 Coin Type" CS 2-Piece Belt Buckle manufactured by Hanover Brass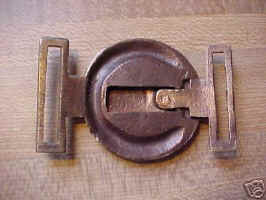 "This reproduction CS "Coin Type" style Two Piece is a MUST for anyone who enjoys civil war belt buckles. It is cast from red brass. Associated with the Western theater. Has original look"
Source: ebay auction by jaglady00 3/15/06 ""Coin Type" CS 2-Piece Belt Buckle Plate Army of Tennessee Item number: 6612514951"
Editor note: "jaglady00" is Hanover Brass, items sold as reproductions.
---
F1062 Coin Type" CS 2-Piece Belt Buckle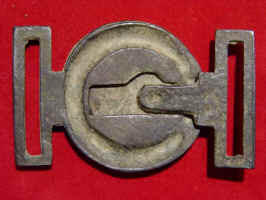 Taken from a webpage: "C.S. " coin type " two-piece sword buckle. Excellent example of a rare Western Theatre buckle. No repairs or alterations."
Editor note: The following information is from Hanover Brass: "That CS two piece with the coin style CS tongue is a made up buckle by me before I got a copy of the original coin style. Charles Burnett dug the original wreath that has the cut out inside the wreath. I made up the tongue and used a copy of his wreath. This buckle never was from a original." Thank you Gary for telling us about this fake you made, years after it had been placed into the collector community.
---
FP

1487


CS two part buckle, "coin" style
---
[Return to relicman main page, (real stuff), enough of these fakes!]