---



Fakes, reproductions, replicas,
an investigative report, by Harry Ridgeway
---
Fakes, reproductions, replicas,
CS two part buckles, ringed wreath style, Confederate plates 057 to 061
Disclaimer: by clicking onto this page you are expressly accepting the terms of the disclaimer explained fully on the fakes main page.
---
---
Original is solid cast, very simple wreath featuring ringed design, tongue bar is generally flat
---
F1024 Ringed-Wreath" CS 2-Piece Belt Buckle manufactured by Hanover Brass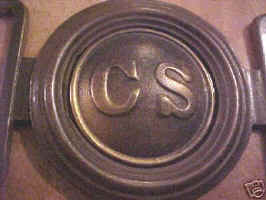 This reproduction CS "Ringed-Wreath" style Two Piece is a MUST for anyone who enjoys civil war belt buckles. It is cast from red brass. Associated with the Washington Artillery. Has original look.
Source: ebay auction by jaglady00 3/12/06 ""Ringed-Wreath" CS 2-Piece Belt Buckle Plate copy from original buckle in the VA .Historical Society Item number: 6611820128"
Editor note: "jaglady00" is Hanover Brass, items sold as reproductions.
---
F1116 Ringed-Wreath" CS 2-Piece Belt Buckle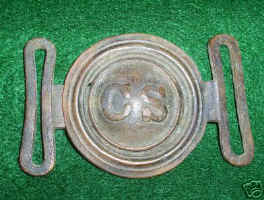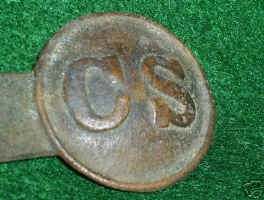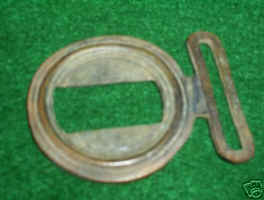 "AUCTION IS FOR A CONFEDERATE CIVIL WAR 2-pc RINGED-WREATH BELT PLATE. THIS PLATE IS PART OF A LIFE LONG COLLECTION DUG AND PURCHASED BY WILLIAM HAROLD OUT OF FRANKLIN TENNESSEE WHOM I RECENTLY PURCHASED THE COLLECTION FROM THE ESTATE AFTER HIS PASSING. PLATE WAS NOTED AS BEING DUG ABOUT 1/2 MILE FROM THE WILDERNESS BATTLEGROUNDS ON PRIVATE LAND. THIS IS A WONDERFUL PIECE W/ A RARITY OF 8 AND IS REFERENCED IN THE MULLINAX ON PAGE 39 PLATE 057. THIS PARTICULAR PLATE IS @ 52MM X 88MM +/- 1MM AS I AM NEW TO MEASURING AND GET IT AS CLOSE AS POSSIBLE. LOOP ON TONGUE PORTION HAS SOME GROUND ACTION AS IT HAS A SLIGHT INWARDS BEND IN IT. EVERYTHING ABOUT THIS BUCKLE IS CORRECT AND I AM SURE IT WILL PLEASE. PLEASE EMAIL WITHANY AND ALL QUESTIONS AND I WILL TRY AND ANSWER THEM TO THE BEST OF MY ABILITY. US SHIPPING WILL BE $6.00, THANKS FOR LOOKING AND GOD LUCK
Source: ebay auction July 06 "Buy it now" by "vintage_comics_and_collectibles": CONFEDERATE CIVIL WAR 2-pc RINGED-WREATH BELT PLATE 100% GUARANTEED AUTHENTIC FOR LIFE "NEW ORLEANS STYLE" Item number: 250006085575
Editor note: This seller sells on ebay auction under "Private Auction". It is highly doubtful this piece can be shown to be authentic. Gee, I wonder who actually supplied this nice buckle!
---
[Return to relicman main page, (real stuff), enough of these fakes!]