---



Fakes, reproductions, replicas,
an investigative report, by Harry Ridgeway
---
Fakes, reproductions, replicas,
CSA two part buckles, Confederate plates 062 to 064, & 346
Disclaimer: by clicking onto this page you are expressly accepting the terms of the disclaimer explained fully on the fakes main page.
---
---
There is disagreement amongst the authorities as to which of these tongues actually went with which wreath, the repro maker obviously made choices below in conflict with the published authority. The only thing certain is that the pieces shown below are reproduction. What is authentic, if any examples of this pattern are authentic, are much more difficult to analyze. There is debate and disagreement about this piece, some collectors believe that the examples in Mullinax book are fantasies, obviously the owners will vigorously disagree. The problem is that almost all examples came through a particular Tennessee collector, and so noted in the Mullinax book, so needless to say that is cause for pause. To my knowledge none have been recovered whole and matching, so this idea of what wreath and tongue actually go together is estimation and conjecture at best. In any case any "authentic" examples will be rare enough that most collectors will never really need to deal with the issue, and there are plenty of these repros floating around to confuse people.
---
F1038 CSA 2-Piece Belt Buckle, manufactured by Hanover Brass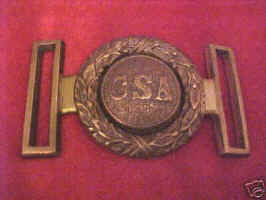 This reproduction CSA two piece plate is very attractive and sharp detail. The original of this plate was the type worn by General Hoke of North Carolina. A rarity of 9..
Source ebay auction by jaglady00 4/13/06 "CSA 2-Piece Belt Buckle Plate type worn by General Hoke of North Carolina Item number: 6620698048"
Editor note: "jaglady00" is Hanover Brass, items sold as reproductions.
---
F1039 North Carolina/CSA 2-Piece Belt Buckle manufactured by Hanover Brass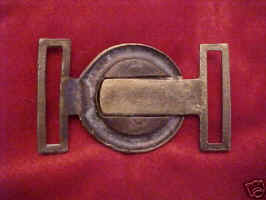 "This reproduction North Carolina/CSA two piece plate was cast from an original. Cast in red brass. A very rare plate. The original is pictured in the buckle books"
Source: ebay auction by jaglady00 4/14/06 "1861 North Carolina/CSA 2-Piece Belt Buckle Plate original pictured in the buckle books Item number: 6620848446"
Editor note: "jaglady00" is Hanover Brass, items sold as reproductions.
---
F1203 CSA 2-Piece Belt Buckle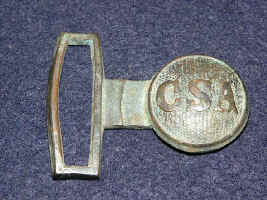 "Send me your best offer. Hello folks and thanks for looking at my auction. Here is a Civil War CSA portion of a tongue & wreath belt plate used by Confederate troopers during the Civil War. This is a rare relic made in 1861. This tongue has the highest rarity rating of all Confederate plates with a rating of 10 in Mullinax book. Cast brass with applied cast tongue disc. These plates were made by a private small shop in North Carolina. This fine example was purchased at the 2004 Nashville Civil War show by myself. I purchased many fine plates that year. I received some history on the belt plate tongue as follows: the belt plate was excavated near Winchester Virginia sometime before 1980 by Mr. James Releford of Leetown, Virginia. I don't know the exact location or date of excavation. I am sad to say that I must sell off many of my prized relics as I have been recently diagnosed with diabetes and must pay hospital bills.
The belt plate is brass showing a very nice patina. The very diserable "chocolate" patina is seen on much of the belt plate. There is minimal pitting and loss of brass. This style belt plate tongue is shown in the two "bibles" of Civil War era belt plates; Kerksis and Mullinax. Mullinax Plate 062, page 42 in the Expanded Edition. The belt loop height is about 50mm, allowing for a bend, which is correct.
The belt plate tongue is 100% guaranteed to be authentic from the Civil War era. The winner has a 10 day inspection period for return minus shipping and insurance costs. I have set a very low reserve to protect my investment. Send me an offer if you like. Please bid with confidence, this belt plate is right as rain!
I will accept certified funds for payment. Money order or cashier check. I will also accept a personal check but must have a short waiting period for the check to clear the account. I am sorry but I do not accept Paypal. Shipping and handling cost is $8 to the USA. Insurance is required and will be calculated at the close of the auction. International bidders are encouraged to bid. I will answer any quesions you may have, just email me. Thanks for your attention and good luck."
Source: ebay auction 10/13/06 by myoldrelics ( private )": Original Dug Civil War CSA Tongue RARE North Carolina 100% Authentic Winchester Virginia With History Low Res Item number: 130036246624
Editor note: This seller sells on ebay auction under "Private Auction". It is highly doubtful this piece can be shown to be authentic.
---
[Return to relicman main page, (real stuff), enough of these fakes!]