---



Fakes, reproductions, replicas,
an investigative report, by Harry Ridgeway
---
Fakes, reproductions, replicas,
CS or CSA oval, fantasy plate
Disclaimer: by clicking onto this page you are expressly accepting the terms of the disclaimer explained fully on the fakes main page.
---
---
Items shown on this page have no counterparts in the literature of period pieces. In other words, nothing like this was believed to have existed during the Civil War, these are referred to as "fantasy" pieces, meaning modern "artistic" productions of items that could be imagined to have been used in the Civil War but were not.
---
Bullet struck CS buckles
I don't know who is making these plates, but this die, lead filled, sometimes arrow hook buckle, sometimes boxplate is popular amongst re-enactors. Neither existed during the Civil War. There are legitimate lead filled and arrow hooked buckles made during the Civil War, but they look nothing like these plates. Further, somebody has been selling quite a few of these plates with a bullet stuck part way through. I would love to see an engineering study to explain if this is even possible for a bullet to fly through the air, strike the plate, start to penetrate but then stop part way through, and apparently flying so fast that the base compresses as well! Geze!. That seems to be violating several laws of physics, not to mention common sense. But these things are sold routinely on ebay.
---
F1136 Lead filled Oval CS bullet struck!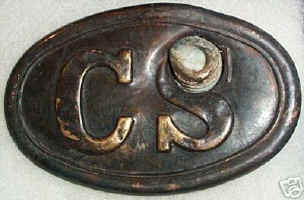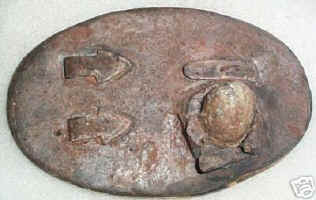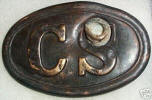 "I have a CS confederate belt buckle which has a large caliber slug embedded in the upper part of the S .The belt buckle is oval shaped and is about 3 1/4" long and is made of brass with lead filling and is very heavy.There is a lot of corrosion around the bullet and the brass has a dark patina.I bought this piece recently at an antique auction and do not have any specific history as to the origin and previous owner so please evaluate and bid accordingly using your best judgement. If anyone has any questions or would like other pictures, will be happy to respond by e-mail. Thank you for looking."
Source: ebay auction by kathym71020 6/18/06 "CIVIL WAR CS BELT BUCKLE WITH BULLET LODGED Item number: 6636408983"
Editor note: To call this a fake would infer too high of a status for this piece of junk.
---
CSA sheet plate
Pure fantasy, and not a very good one
F1065 CSA oval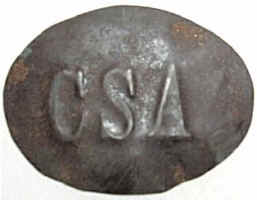 "Authentic CSA Belt Buckle Plate, Battlefield Found Condition, No Lead Backing"
Source: ebay live auction by homesteadauctions, "3122: Authentic CSA Belt Buckle Plate, Battlefield Foun Item number: 6621648495"
Editor note: I imagine this auction house sold this item innocently, but in my opinion, this piece is unlikely to be either battlefield found, or manufactured earlier than 1960. I cannot tell from the pictures what metal was used. This piece looks to be completely homemade. It is highly unlikely that this buckle can be found to be authentic.
---
[Return to relicman main page, (real stuff), enough of these fakes!]