---



Fakes, reproductions, replicas,
an investigative report, by Harry Ridgeway
---
Fakes, reproductions, replicas,
CS oval egg style buckle, Confederate plates 136 to 139
Disclaimer: by clicking onto this page you are expressly accepting the terms of the disclaimer explained fully on the fakes main page.
---
---
Probably the most crude of the oval CS buckles, this is referred to as the "egg" shape because it is hand cut and not quite oval. These were crudely stamped, some were stamped on thick sheet and not filled (usually western theater), the lead filled ones tended to be stamped on thinner sheet and are typically found in the east. They are thought to have originated in Mississippi although that is not proven.
---
FP

1498


CS oval belt plate, "egg shaped"
---
F1215 CS oval belt plate, "egg shaped" not lead filled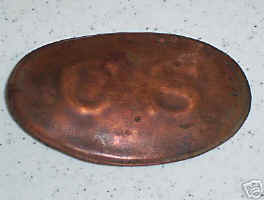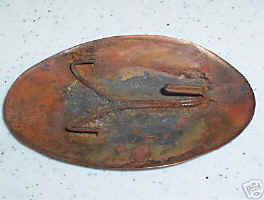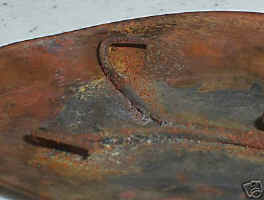 "AUCTION IS FOR A 100% GUARANTEED AUTHENTIC NON-DUG CIVIL WAR CONFEDERATE CS OVAL EGG PLATE ON ORIGINAL LEATHER. THI IS A SUPER NICE SPECIMEN OF THIS PLATE. IT IS STILL ON THE ORIGINAL LEATHER BELT AND IS A NON-DUG SPECIMEN. THIS IS A WIRE BACK BUCKLE, NO LEAD. WIRE IS STILL PRESENT BUT IS WEAK AND RUSTY. NICE PATINA. I BOUGHT THIS 2 YEARS AGO AT THE NASHVILLE CIVIL WAR RELIC SHOW AND NOW MUST SELL OFF MOST OF MY COLLECTION TO PAY OFF DOCTOR BILLS. BUCKLE IS 100% GUARANTEED GENUINE W/A 3 DAY MONEY BACK INSPECTION PERIOD. PLEASE EMAIL WITH ANY AND ALL QUESTIONS, US SHIPPING WILL BE $10.00"
Source: ebay auction by vintage_comics_and_collectibles 11/6/06: "NON-DUG CIVIL WAR CONFEDERATE CS OVAL EGG PLATE 100% GUARANTEED AUTHENTIC ... PLATE ON ORIGINAL LEATHER Item number: 250046310631"
Editor note: This seller sells on ebay auction under "Private Auction". It is highly doubtful this piece can be shown to be authentic. This plate is believed to be from the same source as P1498.
---
F1107 CS oval belt plate, "egg shaped" solid cast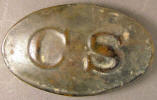 Plate measures 52.6mm x 87.7mm (approximately)
Editor Note: This plate was brought to me for inspection. It is solid cast, hooks were removed to make it look used, this one is pretty lame. It is solid cast, technically this is a fantasy, they simply were never made in cast form.
---
F1182 CS oval belt plate, "egg shaped" another fantasy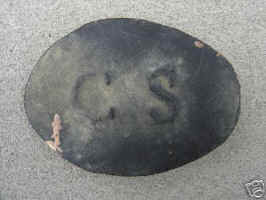 "Up for auction,[for SERIOUS collectors only}, is a rare Civil War collectors item. Here is a "CS" buckle that was recovered in a dig many years ago. Unlike the mass produced factory ones, I was told by the curator at the Gettysburg Museum, DEAN KNUDSEN, that it was made by either a blacksmith or tradesman. The oval copper was hand cut [ you will notice by its uneveness] The "CS" was then hand stamped into the metal.It is 99% covered with patina. The reverse belt hooks were made very sturdy to endure the weight of the belt and what ever it held. 100% original. See photos and good luck"
Source: ebay auction by trixie53 5/20/06, "CS BELT BUCKLE Item number: 6630028887"
Editor note: Oh come on, gimme a break! er I mean It is highly doubtful this piece can be shown to be authentic. I sure hope they are not putting crap like this in the "Gettysburg museum" whatever that is.
---
F1266 CS egg shape buckle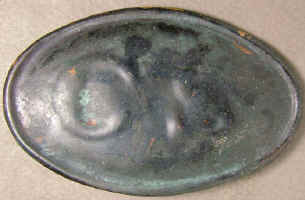 Plate measures 54.3mm X 87.2mm, this is approximate as this is an oval plate handcut, it is almost impossible to get meaningful measurements of ovals because of the curvature.
Editor note: Somebody got duped on this plate, typical ebay sale. This example was given to a colleague for examination, he condemned it, and submitted to me for pictures. I agree with his conclusion. There seem to be a good many of these floating around, so here is good pictures, study this piece of junk carefully so you are not fooled too! If anybody figures out who is making these plates, email me please.
---
[Return to relicman main page, (real stuff), enough of these fakes!]