---



Fakes, reproductions, replicas,
an investigative report, by Harry Ridgeway
---
Fakes, reproductions, replicas,
CS oval plate, "regulation", Confederate plates 144 to 147
Disclaimer: by clicking onto this page you are expressly accepting the terms of the disclaimer explained fully on the fakes main page.
---
---
The CS oval "regulation" was intended to be a somewhat standard pattern that was similar to the US regulation pattern. Originals were die stamped, generally higher quality than other Confederate plates, although not to the standard of the comparable Federal pattern. The originals were not lead filled and used scrap sheet for hooks.
---
F1478 CS oval plate, manufactured by Yeck Products


This CS pattern is a fantasy, nothing like it every existed in the Civil War. It can be configured as either a buckle or boxplate.
Buckle measures 54mm x 86mm
Editor note: Plate was obtained directly from Yeck Products, as a sample of their production to be used in this presentation.
---
F1287 CS oval lead filled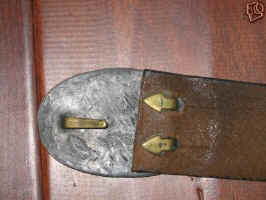 "This is an item found in my uncle's flooded out Katrina home in October 2005. It was up in a closet and did not get wet. I am told it is a belt buckle from the Civil War era used by the Confederate soldier. It also has a small belt it is attached to that looks old. The buckle has wear, some grooves, scratches, and dings as well as a litlle bit of rust or discoloring. Otherwise it looks good. The belt has wear as well but overall is not in bad shape. The belt is almost 35 inches in total length so it may fit someone who had a 32 inch waist or so. It is almost 2 inches wide. The buckle is a little over 3 inches and the height is about 2 inches. There are 3 prongs on the back of the buckle. I will ship this priority with tracking and insurance for 6.95 in the USA."
Source: ebay auction by olemissrebelsfan, "Civil War Confederate Belt Buckle and Belt Item number: 250074634949
Editor note: This die is not really a copy, it is a fresh die made up by a sutler to use for re-enactment supplies. This pattern is sold in quantities by many of the sutlers at living history events and was made by the thousands. A few fakers have tried to age these buckles, this one is aged better than most but is still a pretty lame fake.
---
F1137 CS oval box plate lead filled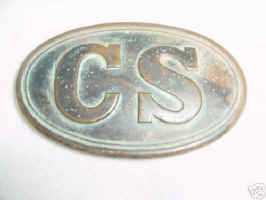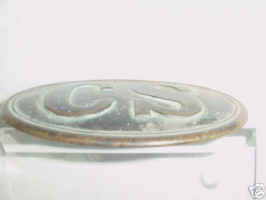 "THIS AUCTION IS FOR AN ORIGINAL PERIOD ANTIQUE >CONFEDERATE STATES CIVIL WAR BELT BUCKLE . ON THE FRONT OF THIS HEAVY BUCKLE IN RAISED LETTERS IT READS "C.S.." THIS BUCKLE MEASURES 3 1/2" LONG AND 2 1/4" WIDE.THIS BUCKLE HAS A GREAT ORIGINAL PATINA AND HAS SOME WEAR ON EDGE FROM AGE. THIS BUCKLE IS 100% AUTHENTIC. NOT A REPRODUCTION.
Source: ebay auction by rgw3006 7/9/06 "ANTIQUE CIVIL WAR CONFEDRATE STATES BELT BUCKLE ORGINAL Item number: 6634724606
Editor note: To call this a fake would infer too high of a status for this piece of junk. The one thing the Confederacy did not need was ornamental boxplates.
---
F1175 CS oval, lead filled modern arrow hooks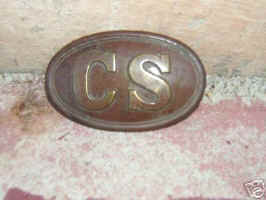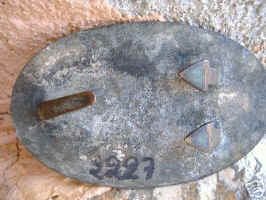 "VINTAGE " C.S. " OVAL BELT BUCKLE. AGE IS NOT KNOWN , AS IT WAS PURCHASED IN 1976 FROM AN ANTIQUE DEALER IN FLORIDA BY MY FATHER . ( HE BRING BACK TOGETHER SOME US CIVIL WAR HAT PINS THAT WERE 100 % GENUINES AND NICE MEXICAN SPURS )
DIMENSIONS AS FOLLOWS :
LENGTH : 85 MM = 3,4 INCHES
HEIGHT : 54 MM = 2,16 INCHES
WEIGHT IS A LITTLE OVER 150 GRS ( = 5,30 OZ )
BACK SEEMS TO BE PEWTER OR LEAD WITH RUST SURFACE AND THREE BRASS HOOKS . I WILL ADD PICTURE OF THE BACK IN MEANWHILE. NICE REDDISH/BROWN PATINA ON THE FRONT WITH SOME BRASS APPEARANCE ON THE ANKLES OF THE LETTERS CS. ORIGINAL ? VINTAGE ? OLD MOVIE REPRO ?
Source: ebay auction by gory13 7/21/06 "CIVIL WAR CONFEDERATE VINTAGE BELT BUCKLE ! Item number: 130006124014"
Editor note: To call this a fake would infer too high of a status for this piece of junk. These hooks are only used on modern buckles, even the authentic arrow hooks of the 1860's are entirely different from these.
---
[Return to relicman main page, (real stuff), enough of these fakes!]