---



Fakes, reproductions, replicas,
an investigative report, by Harry Ridgeway
---
Fakes, reproductions, replicas,
CS oval buckle with eleven stars, Confederate plate 159
Disclaimer: by clicking onto this page you are expressly accepting the terms of the disclaimer explained fully on the fakes main page.
---
---
F1060 CS oval eleven stars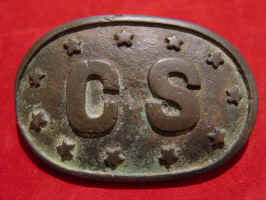 Description on a website: "Leech and Rigdon oval belt plate. This fine plate has a slick brown patina, definitely one of the better looking dug examples. These rare plates are only found in the Western theatre. Recovery site unknown. $23,900.00"
Editor note. Gary Williams stated on one of the blogs that this fake piece was on the website of a Tennessee dealer and that he had made the piece. He noted that his initials "HBF" (Hanover Brass Foundry) appear in the middle of the back where a major casting flaw is usually found. He wouldn't tell the dealer, nice guy this Gary Williams, but I did contact the dealer. Although it was still on his website, it had been sold, and this dealer being honorable contacted his customer.
The new owner brought the plate to a show and showed it to a number of experts to get second opinions. Several of us took it outside to examine under sunlight, and no matter what angle or lighting condition was employed , under the lights inside or outside, none of us could find these initials. It does seem like there could be these initials on the plate in the pictures, but this is weak and simply did not bear out on examination. I conclude that it had to be unusual lighting in the photography to produce this illusion. This plate got examined by several respected authorities at the show, all of whom have reputations for integrity and knowledge. I also would note that the ownership trail for this plate is well documented and that it was previously owned by several well respected collectors. So after all this examination, none of the experts felt that the plate should be condemned and all liked the looks of it.
Gary Williams has offered the following explanations of his production on his website, civilwarfakes.com:
Photo # CSGP17


Plate 159 (CS With Stars) Belt Plate. 49 x 75mm. GW stamped in the back. This is a very rare plate. I have cast copies of this for 30 years. This CS has been one of my best sellers. The detail has been reworked to make it look better and to give it sharp detail. This plate is much cleaner than the original. I have cast many and all look just the same.
---
Photo # CSGP18


Plate 159 (Variant) (CS With Stars) Belt Plate. 49 x 75mm. Marked GW. This is a sand copy of the original and left just as the original looks. I do not sell as many as the previous CS with stars. This plate is close to the original and if faked this is the one used. Pick out a flaw because there are many to use.
---
Now supposedly GW is "helping" the collectors clean up the fakes by disclosing his repros on his fakes blog (civilwarfakes.com). And he says that he marks the plates with his name or has cast unique flaws into the plates that will identify them as repros, or the plates were made so incorrectly that collectors should be able to distinguish his repro. Of course seldom are these plates actually marked, and this wonderful information was only recently provided and years after these fakes were placed into the collector community.
Now maybe I am missing the point here, but I find no similarity between these two admitted repros and the fake that he wanted to condemn. So what is the truth? Was this a scheme to stick a reputable dealer, and actually potentially several dealers? Mr. Williams has certainly voiced his displeasure of the dealer community, although the honest dealers seem to be more serious targets for him than his distributors who he actually sold "repros" to. So what is the truth?
---
[Return to relicman main page, (real stuff), enough of these fakes!]