---



Fakes, reproductions, replicas,
an investigative report, by Harry Ridgeway
---
Fakes, reproductions, replicas,
CSA oval buckle, Confederate plate 161
Disclaimer: by clicking onto this page you are expressly accepting the terms of the disclaimer explained fully on the fakes main page.
---
---
The original plate was stamped and then lead filled with stud hooks. It is extremely rare,
---
F1148 "CSA" oval buckle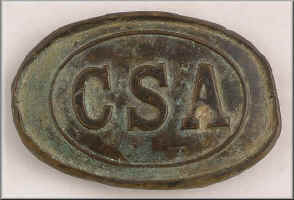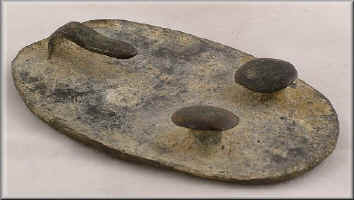 This outstanding piece of history is a Confederate States of America buckle. It is lettered CSA on the front inside an oval. It dates from the civil war era and measures 3 inches long by 2 inches wide. It is in great condition, possibly dug with some overall wear, as can be seen in the photo. It is guaranteed to be 100% authentic and period.
Source: ebay auction 8/3/06 by coasttocoast_antiques_nh, "Rare CSA Confederate States of America Belt Buckle Item number: 220011373195"
Editor note: It appears this is made up from pictures, the example in Mullinax book is the only example known and this copy differs significantly in the die detail. I have not examined this buckle but it appears that it has been made as a casting, the hooks are soldered or brazed to the casting, then a thin lead coating has been affixed to the back to make it appear to be lead filled. Gary Williams also suggested to me that Raleigh Cassidy (now deceased) may have cast this buckle in the 1970's or 1980's, but that is not confirmed. Mr. Cassidy worked for Hanover Brass during that time frame.
I emailed the seller of this piece to inform him that I thought this is a fake and here is his reply:
"its positively not a reproduction and we stand behind this item to be 100 percent correct and a fine dug item ,its a very rare buckle and we are pleased to own it , anyone who even thinks this item is a fake needs to take a good hard look at this item again , wrong thinking on this one but as we say we stand behind it to be as stated , thank you and have a nice day , steve"
---
F1168 "CSA" oval buckle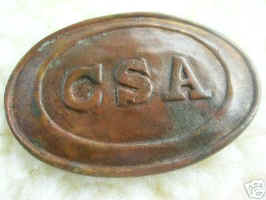 "CSA Civil War Belt Buckle. The back is marked "1864 CS". Aged reproduction. Looks good. $5 Shipping.
Source: ebay auction by yardsalehero, 8/7/06 "CSA 1864 Civil War Belt Buckle Confederate Item number: 320012612321
Editor note: Seller does disclose that it is an "aged reproduction" I don't know who dated these solid cast buckles, but I think that was probably the makers way of identifying his work. None of these buckles with these war dates are authentic, Federal or Confederate. I do not intend to copy and post very many more of them because they are not supposed to fool collectors. They only seem to fool the ebay unwary.
---
[Return to relicman main page, (real stuff), enough of these fakes!]