---



Fakes, reproductions, replicas,
an investigative report, by Harry Ridgeway
---
Fakes, reproductions, replicas,
Alabama sword plate, Confederate plate 215
Disclaimer: by clicking onto this page you are expressly accepting the terms of the disclaimer explained fully on the fakes main page.
---
---
Original was fine cast, brazed tongue
---
F1216 Alabama sword plate manufactured by Hanover Brass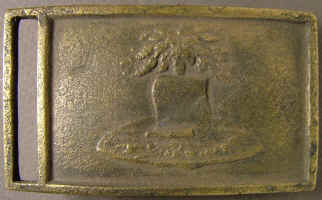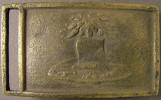 Plate measures 50.6mm X 87.4mm
Editor Note: This was given to me from Gary Williams, Hanover Brass, it was copied from a plate that I owned at the time. The brazed hook was missing from the original, you can see the impression of the break, a stock tongue was then affixed in its place. The dug original had a good bit of ground action, hence the detail is very weak on this copy.
---
[Return to relicman main page, (real stuff), enough of these fakes!]