---



Fakes, reproductions, replicas,
an investigative report, by Harry Ridgeway
---
Fakes, reproductions, replicas,
Georgia two piece buckles, Confederate plates 230 to 241
Disclaimer: by clicking onto this page you are expressly accepting the terms of the disclaimer explained fully on the fakes main page.
---
---
Plates 230 & 231, Georgia seal with laurel leaf wreath, plain keepers.
Originals of these plates were die struck disc on cast tongue bar and wreath. No cast copies of this pattern are indicated in the Mullinax book.
---
F1031 Georgia 2-Piece Belt Buckle manufactured by Hanover Brass



"This reproduction Georgia plate is very attractive and sharp detail. The original center seal was die stamped, not cast as the reproduction. Cast in Red brass. This has been one of my most popular sellers. The pictures will show why. The original is on display in the Va. Historical Society."
Source: ebay auction by jaglady00 3/31/06 "Georgia 2-Piece Belt Buckle Plate copy from original buckle in the VA .Historical Society Item number: 6617186331"
Editor note: "jaglady00" is Hanover Brass, items sold as reproductions.
---
Plates 232 to 237, Georgia seal with oak leaf wreath.
Generally the northern made originals will be die stamped, Confederate copies will be cast. Fakers copies will generally also be cast.
---
F1149 Georgia two piece buckle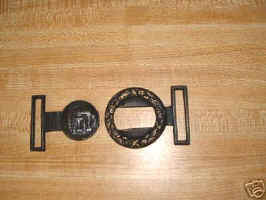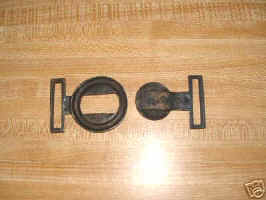 "NICE BRASS BUCKLE WITH THE GEORGIA STATE SEAL ON THE FRONT AND 1862 STAMPED INTO THE BACKSIDE.2 INCHES TALL X 3 INCHES WIDE."
Source: ebay auction by shenandoah1862 7/22/06: " GEORGIA 2 PC/ BUCKLE Item number: 290008216670"
Editor note: This seller sells on ebay auction under "Private Auction". It is highly doubtful this piece can be shown to be authentic.
---
[Return to relicman main page, (real stuff), enough of these fakes!]