---



Fakes, reproductions, replicas,
an investigative report, by Harry Ridgeway
---
Fakes, reproductions, replicas,
Georgia oval plates, Confederate plates 242 to 245
Disclaimer: by clicking onto this page you are expressly accepting the terms of the disclaimer explained fully on the fakes main page.
---
---
The original was die stamped, lead filled, prewar manufacture.
---
F1494 Georgia oval


Georgia oval is well made die but is not an actual copy. The differences are small but notice the figure in the dome, and the landscape, there are small differences versus the original. The border also seems too wide and this one has been ovefilled, which will make the border seem oversized. However note that S&S sells this pattern from their catalog and they will sell a skin without the filling, so any body can fill it with the backing of choice. Go by the die detail to authenticate these Georgia buckles, not the backs or the patina.
Buckle measures 55mm x 87mm
Editor note: Plate was obtained directly from a sutler, and was sold as a re-enactment supply, this pattern is also sold by S&S Firearms in their catalog.
---
F1174 Georgia oval boxplate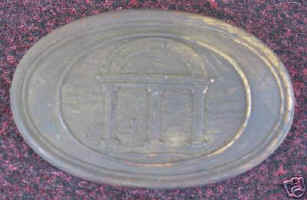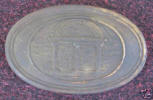 "This is a very nice plate, it is a Confederate Georgia Box Plate, it is still leaded with the loops. It's in great condition, and I did not touch it, as far as cleaning it up. It measures 3 1/4 inchs long and 2 1/8 inchs wide or close to that as I am not a carpenter. I think this is a good item for any collection. In the arch it says Constitution"
Source ebay auction by antiquesbypaula 7/26/06 "Original Civil War Georgia Box Plate Item number: 270009681608"
Editor note: This seller sells on ebay auction under "Private Auction". It appears that this is a cast plate, iron hooks have been soldered to the back, then the back coated with a light lead parging. It is highly doubtful this piece can be shown to be authentic.
---
F1147 Georgia oval plate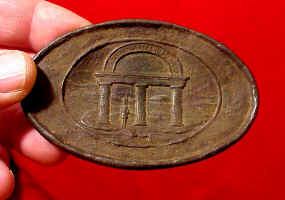 Source: I was asked to evaluate this buckle by a potential purchaser.
Editor note: The buckle appears to be authentic. However, it appears that most of the rim has been rebuilt, then filled in with lead or epoxy. So it is authentic but has been significantly repaired. The repair is so extensive, it is not clear whether this is a boxplate or a buckle missing the hooks. I think it is a boxplate but that is tentative. I post this mostly to illustrate how repairs can be extensive.
---
[Return to relicman main page, (real stuff), enough of these fakes!]