---



Fakes, reproductions, replicas,
an investigative report, by Harry Ridgeway
---
Fakes, reproductions, replicas,
Louisiana lead filled rectangle buckle, Confederate plates 282 to 286
Disclaimer: by clicking onto this page you are expressly accepting the terms of the disclaimer explained fully on the fakes main page.
---
---
Original is stamped, solder filled, brass hooks soldered on
---
F1050 Louisiana Belt Buckle manufactured by Hanover Brass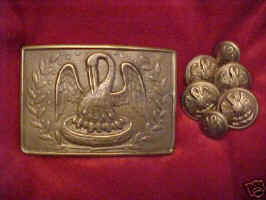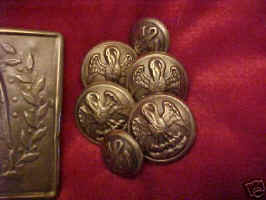 "This reproduction Louisiana plate was cast from an original. This was a popular type used during the Civil War. This auction includes 7 uniform coat buttons to match the belt plate, also reproduction and sand cast in yellow brass and hand finished by Hanover Brass. The original of this Louisiana buckle was copied with permission from the Virginia Historical Society (Richmond) and still resides there. Wearable or wonderful Collection Display."
Source: ebay auction by jaglady00 4/21/06 "1861 Louisiana Belt Buckle Plate includes 7 Louisiana buttons Item number: 6622549615"
Editor note: "jaglady00" is Hanover Brass, items sold as reproductions.
---
F1257 Louisiana rectangle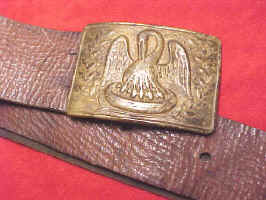 "Civil War LOUISIANA Confederate Common Lead Filled Belt Plate on the Leather
This is the desireable lead filled brass pelican lousiana belt plate on the leather with scrap brass hooks, in spectacular condition. The belt was with the plate when it was purchased in the 80'S and appears to be a tight fit. The leather is stiff but solid. The patina on the plate is excellent"
Source: a webpage
Editor note: I examined this plate at a show, did not photograph it. It was also examined by a number of other dealers, ruling not definite. This may be die stamped, die detail is very weak, back is configured differently from other known examples. I pose this as a question, is this piece authentic or not?
---
[Return to relicman main page, (real stuff), enough of these fakes!]