---



Fakes, reproductions, replicas,
an investigative report, by Harry Ridgeway
---
Fakes, reproductions, replicas,
Maryland oval plates, Confederate plates 303 & 304
Disclaimer: by clicking onto this page you are expressly accepting the terms of the disclaimer explained fully on the fakes main page.
---
---
Original was finely die stamped, lead filled, both buckle and boxplate.
---
F1197 Maryland oval buckle, arrow hooks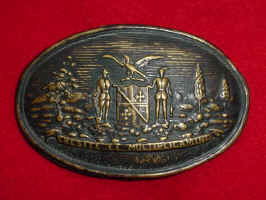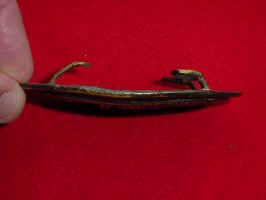 "A Very RARE, very Clean and Original Civil War Confederate States of America (CSA) Maryland Belt Buckle. This buckle is an oval measuring 3-1/4" x 2-1/8". It is constructed of Bronze with a Lead filled back. It has the hooks for affixing to a belt. The piece is nicely made but it has some bending to the piece as evidenced in the pictures. The hooks were filed a bit by some idiot and some of the patina has been removed as a result. The buckle apparently is a very rare piece of early CW Confederate history. I have attached a few pictures for close up viewing. The piece is in overall VF to VF+ Condition. The piece is unmarked. A nice, Very Clean, Original piece of Confederate Civil War memorabilia. Winning Bidder to add $15.00 postage, insurance and handling. Good Luck and Happy Bidding!!!"
ebay auction by "mitrov1" 10/18/06 "Original CW Confederate Maryland Belt Buckle - RARE!!!! Item number: 120041298635
Editor note: This appears to be a cast plate, the back milled out, these arrow hooks soldered onto the back, an then lead filled. No arrow hook Maryland plate is likely to be authentic. The hooks on this buckle appear to be homemade at best.
---
[Return to relicman main page, (real stuff), enough of these fakes!]