---



Fakes, reproductions, replicas,
an investigative report, by Harry Ridgeway
---
Fakes, reproductions, replicas,
Maryland sword plate, Confederate plate 305
Disclaimer: by clicking onto this page you are expressly accepting the terms of the disclaimer explained fully on the fakes main page.
---
---
Original is cast , finished by pressing into a die, tongue is brazed.
---
F1001 Maryland sword belt plate, made by Hanover Brass


"This reproduction Maryland sword belt plate is cast from the original in the Virginia Historical Society. A very rare plate. Beautiful detail and very close to the original. There are two different makers of the original Maryland sword belt plate. The only way you can see the difference is the style hook on the back. Marked GW, HBF."
Source: ebay auction by jaglady00 3/12/06 "Maryland Sword Belt Buckle Plate copy from original buckle in the VA .Historical Society Item number: 6611623893"
Editor note: "jaglady00" is Hanover Brass, items sold as reproductions.
---
F1441 Maryland sword belt plate, made by Hanover Brass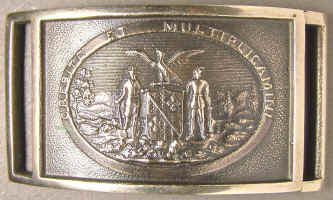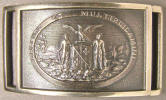 Plate measures 49.6mm X 84.7mm
Editor note: Plate was obtained directly from Hanover Brass as a sample of his production. Note that any maker marks on this buckle are weak, apparently so that they can be easily removed or obscured.
---
F1199 Maryland sword belt plate



"Send me your best offer. Hello folks and thanks for looking at my auction. Here is a Civil War Maryland sword belt plate. Cast brass, then impressed into a metal die for fine detail. Tongue brazed on. Shortly before the war, some of Baltimore's uniformed companies purchased from Emerson Gaylord a quantity of these sword belt plates. Many of these plates went South with the Maryland Volunteers and are occasionally excavated in Confederate camp sites.
This fine example was purchased at the 2004 Nashville Civil War show by myself. I purchased many fine plates that year. The plate is excavated but I don't know the exact location or date of excavation. I am sad to say that I must sell off many of my prized relics as I have been recently diagnosed with diabetes and must pay hospital bills.
The belt plate is brass showing a very nice patina. The very diserable "chocolate" patina is seen on much of the belt plate. There is minimal pitting and loss of brass. This style belt plate is shown in the two "bibles" of Civil War era belt plates; Kerksis and Mullinax. The measurements of the belt plate are correct, approximately 87mm wide by 51mm tall. Mullinax Plate 305, page 168 in the Expanded Edition.
The belt plate is 100% guaranteed to be authentic from the Civil War era. The winner has a 10 day inspection period for return minus shipping and insurance costs. I have set a very reasonable buy it now price. Send me an offer if you like. Please bid with confidence, this belt plate is right as rain!
I will accept certified funds for payment. Money order or cashier check. I will also accept a personal check but must have a short waiting period for the check to clear the account. I am sorry but I do not accept Paypal. Shipping and handling cost is $8 to the USA. Insurance is required and will be calculated at the close of the auction. International bidders are encouraged to bid. I will answer any quesions you may have, just email me. Thanks for your attention and good luck."
Source ebay auction by "myoldrelics ( private )" 10/18/06: "Civil War Maryland Brass Sword Belt Plate Ca 1860-1865 100% Authentic Low Reserve Dug Plate Rare State Seal Item number: 130036204344"
Editor note: This seller sells on ebay auction under "Private Auction". It is highly doubtful this piece can be shown to be authentic.
---
[Return to relicman main page, (real stuff), enough of these fakes!]