---



Fakes, reproductions, replicas,
an investigative report, by Harry Ridgeway
---
Fakes, reproductions, replicas,
Mississippi oval, patterns 306 and 307
Disclaimer: by clicking onto this page you are expressly accepting the terms of the disclaimer explained fully on the fakes main page.
---
---
The original was finely stamped, lead filled both buckle and boxplate.
---
F1497 Mississippi oval, manufactured by Hanover Brass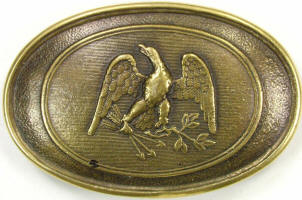 This is an early example of Hanover Brass production, and is an honest repro. This is cast off an original, but original was brass stamped and lead filled, this is all casting. You can see the rim of the original and irregularities of the lead from the original pattern. Then it was marked and these very durable hooks were put on. Not only were the hooks durable, they are very different from any hooks ever used in the Civil War so this was a buckle meant to be a good repro. Regrettably Hanover Brass has found that it is easier to sell their fakes if the buckles are made more correctly, the bold maker mark has been replaced by a light stamping that is more easily removed or obscured, and a lead backing with stud hooks now is used in place of these ugly prongs. Although such a buckle may be less durable for the re-enactor or sportsman, it is a more marketable product for the fakers.
Editor note: Plate was obtained from an old collector and sold for $10 as a repro.
---
F1135 Mississippi oval buckle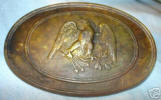 Marked 1864 C S in back. No other information known. Ask any questions before bidding as all sales are final. Payment expected within 10 days and preferred payment by paypal but will accept money orders and checks held for banks ok. All non=payments reported to ebay.
Source ebay auction by pjmtam 6/30/06 "1864 C S civil war? Buckle Item number: 110001232284"
Editor note: This cast buckle is a poor reproduction. The date was placed in the back as a sutler mark so collectors would not be fooled. I do not know who made these plates, but there are a lot of cast plates out there with this mark. It is highly doubtful this piece can be shown to be authentic.
---
[Return to relicman main page, (real stuff), enough of these fakes!]