---



Fakes, reproductions, replicas,
an investigative report, by Harry Ridgeway
---
Fakes, reproductions, replicas,
Star two piece buckle, rectangle tongue, Confederate plate 318
Disclaimer: by clicking onto this page you are expressly accepting the terms of the disclaimer explained fully on the fakes main page.
---
---
Original is cast keeper bars, tongue bar is rolled and brazed to the keeper bar, wreath is die struck and brazed to its keeper, motif is die struck and brazed to the tongue bar, there are actually five pieces to this buckle! The plate is attributed to Mexican War period, and is a well made stock plate. The original is exceedingly rare.
---
F1204 Star two piece buckle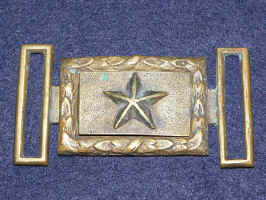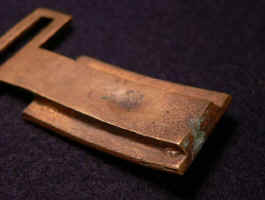 "Send me your best offer. Hello folks and thanks for looking at my auction. Here is a Civil War Texas Confederate brass belt plate worn by Texas troopers during the Civil War. This is the rare 2 piece style brass plate. This fine example was purchased at the 2004 Nashville Civil War show. I received some history on the belt plate as follows: the belt plate was excavated near Winchester Virginia sometime before 1980 by Mr. James Releford of Leetown, Virginia. I don't know the exact location or date of excavation.
The belt plate is brass showing a very nice patina. The very diserable "chocolate" patina is seen on much of the belt plate. There is minimal pitting and loss of brass. The tongue and wreath fit very snugly. This style belt plate is shown in the two "bibles" of Civil War era belt plates; Kerksis and Mullinax. The measurements of the belt plate are correct, approximately 91mm wide by 52mm tall. Mullinax Plate 318, page 176 in the Expanded Edition.
The belt plate is 100% guaranteed to be authentic from the Civil War era. The winner has a 10 day inspection period for return minus shipping and insurance costs. I have set a very low reserve to protect my investment. Send me an offer if you like. Please bid with confidence, this belt plate is right as rain!
I will accept certified funds for payment. Money order or cashier check. I will also accept a personal check but must have a short waiting period for the check to clear the account. I am sorry but I do not accept Paypal. Shipping and handling cost is $8 to the USA. Insurance is required and will be calculated at the close of the auction. International bidders are encouraged to bid. I will answer any quesions you may have, just email me. Thanks for your attention and good luck.
Source: ebay auction by myoldrelics ( private ) 9/29/06 "Civil War TEXAS Confederate Belt Plate 2 Piece Brass 100% Authentic Winchester Virginia With History Low Res Item number: 130031674293"
Editor note: This seller sells on ebay auction under "Private Auction". It is highly doubtful this piece can be shown to be authentic.
Editor note. The buckle bought on ebay was sent to me for evaluation, here are actual pictures with measurements: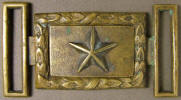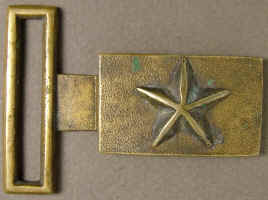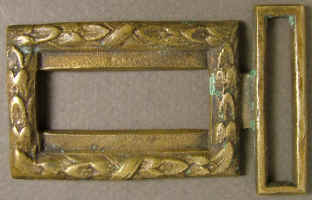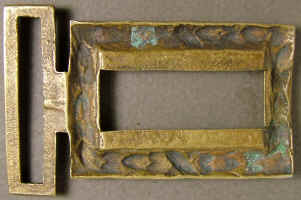 Tongue keeper 48.7mm
Wreath keeper 48.5mm
Wreath height 39.4mm
The orientation of the buckle in Mullinax is opposite these examples, the orientation of the repro is opposite. I have no idea which way is correct, as this was a multipart buckle, the tongue motif could easily have been removed from one of the originals, reset opposite, it thus changes the belt from left handed to right handed or vice versa. So if you compare them, the two wreaths are upside down each other. This is the same orientation as the Hanover Brass example. Many other casting flaws, dimples and burrs also match the Hanover Brass example, and if the measurements are correct on the Hanover Brass webpage, this buckle is even smaller than the HB example! (However I think measurements on HB webpage may be in error) Further this is solid sand cast all the way, the original was five pieces, some die struck, fit together. This buckle is pure bogus in my opinion.
The seller on being questioned about the authenticity of this plate stated the following:
"I am shocked at this news. I bought the plate from a reputable dealer at the Nashville show. This is very sad news. I never had the plate examined because I bought it from the honest dealer. I guess the best thing to do is to send it back to me and I will refund your money. I believe it is best if I get the rest of my plates authenticated before i sell them. If its ok with you, I am going to send the other plates, including the ones you bought, to mullinax himself to get a letter. Please consider the auctions void. I will also send back a refund on the virginia plate that you have paid for with a money order. I will send it tomorrow. Please send the texas plate back and I will issue a refund just as soon as I have it in my hand.
Bill, I am sorry for this and I promise you i did not know the plate was not authentic. I hope we can still be friends. Please reply ASAP.
Jonathan Farrell 219 Pinehurst Dr Kingsport, TN 37660"
Editor note: I have been told by the buyer that Mr Farrell did indeed refund this purchase!
---
F1052 Star two piece buckle, manufactured by Hanover Brass



"This reproduction Texas plate was cast from an original. This was a popular type used during the Civil War. This auction includes 7 uniform coat buttons to match the belt plate, also reproduction and sand cast in red brass and hand finished by Hanover Brass. Buckle also cast in red brass for a matched set. Wearable or wonderful Collection Display"
Source: ebay auction by jaglady00 4/21/06 "1861 Texas 2-Piece Belt Buckle Plate includes 7 Texas CS buttons Item number: 6622554329"
Editor note: "jaglady00" is Hanover Brass, items sold as reproductions.
---
[Return to relicman main page, (real stuff), enough of these fakes!]