---



Fakes, reproductions, replicas,
an investigative report, by Harry Ridgeway
---
Fakes, reproductions, replicas,
Star oval patterns, Texas or Mississippi, Confederate plates 328 and 329
Disclaimer: by clicking onto this page you are expressly accepting the terms of the disclaimer explained fully on the fakes main page.
---
---
Plate 328 Star oval star plate, lead filled
The originals were generally die stamped and lead filled. Attribution of the originals is subject to considerable debate and speculation, they may have been issued to Texas or Mississippi troops, could have been stock plates issued to anybody, and could have been patriotic souvenirs sold after the war. What is presented here will be repros and fakes of the various star buckles.
---
F1479 Star oval, manufactured by Yeck Products


Plate can be configured as either a buckle or boxplate. This one is overfilled and heavy but not all will be.
Buckle measures 55mm x 87mm
Editor note: Plate was obtained directly from Yeck Products, as a sample of their production to be used in this presentation.
---
Fantasy
---
F1102 Texas oval fantasy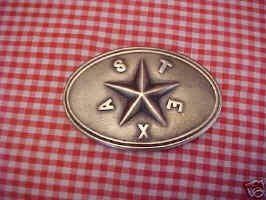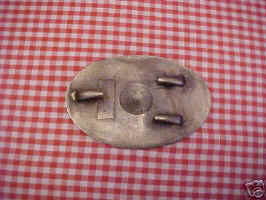 "This reproduction TEXAS Belt plate is a MUST for anyone who enjoys civil war belt buckles. It is yellow cast brass. Marked as a reproduction before it is shipped."
Source: ebay auction by jaglady00 5/06/06 "Oval TEXAS Belt Buckle Plate Item number: 6626639519"
Editor note: "jaglady00" is Hanover Brass, items sold as reproductions.
---
[Return to relicman main page, (real stuff), enough of these fakes!]