---



Fakes, reproductions, replicas,
an investigative report, by Harry Ridgeway
---
Fakes, reproductions, replicas,
North Carolina 6th Infantry, Confederate plates 340 to 345
Disclaimer: by clicking onto this page you are expressly accepting the terms of the disclaimer explained fully on the fakes main page.
---
---
Originals are stamped, prewar manufacture, lead filled, extremely rare plate.
---
F1344 North Carolina 6th Inf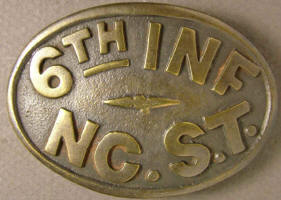 Plate measures 49.7mm X 71.5mm
Plate has cast in hooks
The owner of this buckle died, the estate executor submitted this for evaluation. It was a small collection, most of the expensive buckles were fakes, most of the cheap ones (US buckles and breast plates) were real. I am certain this collector thought they were all real. Unfortunately he has taken information as to the sourcing to his grave.
---
[Return to relicman main page, (real stuff), enough of these fakes!]