---



Fakes, reproductions, replicas,
an investigative report, by Harry Ridgeway
---
Fakes, reproductions, replicas,
South Carolina rectangle plates, Confederate plates 375 to 388
Disclaimer: by clicking onto this page you are expressly accepting the terms of the disclaimer explained fully on the fakes main page.
---
---
The originals of most South Carolina panel plates were stamped brass on heavy sheet, soldered hooks, no lead backing
---
F1458 South Carolina panel plate, manufactured by Historical Reproductions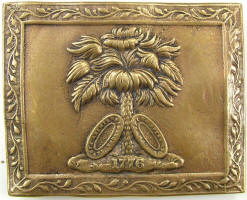 Plate is thin and will bend.
Buckle measures 62.2mm x 78.2mm.
Editor note: Plate was obtained directly from Historical Reproductions, Jeff Posey, as a sample of his production to be used in this presentation. Maker marks are present but they are weak.
---
F1213 South Carolina rectangle fantasy plate


Plate measures 48.7mm to 49.1mm (plate is not square) X 65mm.
Editor note: This plate was submitted to me for evaluation and rejected. The current owner got this plate from a shop in Southport, North Carolina, this plate was part of a deal with other questionable plates. This is a cast "fantasy". It was made from one of the South Carolina rectangle panel plates.
---
[Return to relicman main page, (real stuff), enough of these fakes!]