---



Fakes, reproductions, replicas,
an investigative report, by Harry Ridgeway
---
Fakes, reproductions, replicas,
South Carolina oval plates, Confederate plates 389 to 392
Disclaimer: by clicking onto this page you are expressly accepting the terms of the disclaimer explained fully on the fakes main page.
---
---
South Carolina oval plates were made in three sizes, each was die stamped, lead filled, prewar manufacture
---
F1345 South Carolina oval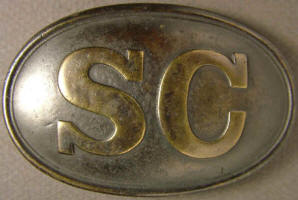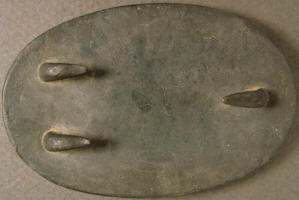 Plate measures 54.7mm X 84.5mm
Plate is cast, hooks are integral
The owner of this buckle died, the estate executor submitted this for evaluation. It was a small collection, most of the expensive buckles were fakes, most of the cheap ones (US buckles and breast plates) were real. I am certain this collector thought they were all real. Unfortunately he has taken information as to the sourcing to his grave. Shame on the fakers, none of these buckles were marked and I can find no evidence indicating such markings were removed.
---
F1172 South Carolina oval buckle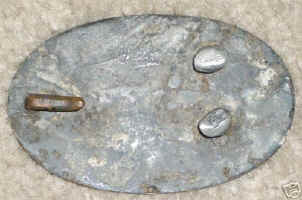 "ORIGINAL CIVIL WAR CONFEDERATE SC / S.C. BELT BUCKLE / PLATE
DESCRIPTION: Item was purchased at an estate auction along with the US cartridge box plate that I have up for auction. I do not know much about these, but if you have questions please feel free to ask.
CONDITION: Very nice condition. Great patina to front. Hooks on back are solidly attached and not loose.
PAYMENT: Payment by Paypal, cash, money order in USA. OUTSIDE OF THE USA, PAYMENT BY PAYPAL ONLY. Payment is expected within seven days of auction ending.
SHIPPING: I will ship this anywhere in the world, use the postage calculator to determine your postage.
-------------------------------------------------------------------------------- On Jul-25-06 at 01:03:30 PDT, seller added the following information: Hi everyone. This belt buckle is up for sale as original because that is how it was represented to me when I purchased it. Books are my area of specialty and I know nothing about the Civil War or belt buckles to help verify weather the item is original or not. I also have not bothered to do any research on this item because it is not an area of interest for me. Hopefully, if you collect this type of thing, you have a better idea than I do of what it is. If you have any information on this item feel free to pass it on to me. It would be appreciated. If you need more photos of this item just let me know. I can take a few more pictures and add them to the listing or email them to you.Buckle measures 3 3/8 inches by 2 1/8 inches."
Source: ebay auction by mannythemoocher, 7/29/06 "Original Civil War Confederate SC Belt Buckle / Plate Item number: 180010821203"
Editor note: The hooks on this buckle are simply not right, in my opinion. It could be a cast plate, these hooks soldered on, then thin lead coating applied to the back. Or it could be a new die and lead filled. It is highly doubtful that this plate can be shown to be authentic.
---
[Return to relicman main page, (real stuff), enough of these fakes!]