---



Fakes, reproductions, replicas,
an investigative report, by Harry Ridgeway
---
Fakes, reproductions, replicas,
Virginia two part buckles, Confederate plates 404 to 428
Disclaimer: by clicking onto this page you are expressly accepting the terms of the disclaimer explained fully on the fakes main page.
---
---
Most Virginia sword plates were pre war die stamped manufacture in the north. Some wartime castings were also made.
---
Pattern similar to plate 415, swords up spoon style cast
This is Virginia two piece, spoon style one piece cast tongue, probably original was English manufacture. Mullinax dates from 1850 to 1860. The pattern is somewhat controversial. There is a well made version that is clearly English manufacture (plate 415). There are copies probably made from this English piece (plate 416). Both seem to be rare. Dating either of them definitely is problematic as very few of these have shown up, most have been nondug. If the English were producing this buckle before the war, doesn't it seem like there should be a good many of them, supplied both before the war and through the blockade? There seem to be neither, just a nondug English version in the Smithsonian and a couple of nondug examples of the cast copy, one published in Mullinax and the other in the Virginia Historical Society collection. The swords up style seems early enough, but the cast spoon style of construction seems later. So when were these buckles manufactured? The answer may not be knowable.
---
F1261 Virginia two piece buckle, cast spoon style, swords up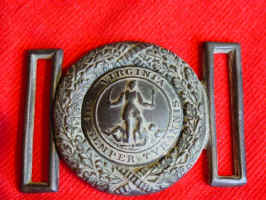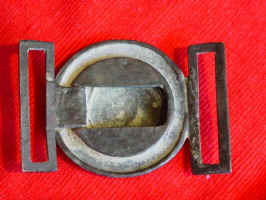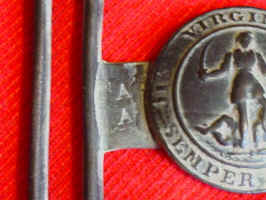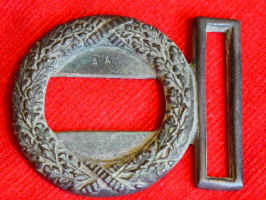 Source: Pictures of this piece were submitted by a very respected collector for evaluation.
Editor note: I post this as a question, is this piece authentic to the Civil War or not, opinions definitely go both directions on this piece? The example published in Mullinax employed a different wreath. The English version is much better made than this piece. Plate 416 is presumably a copy of the English piece. Even it seems to be higher detail than this piece. The most damaging thing with this piece is the matching yet not matching benchmark of "AA" The letters definitely do not match. There is no indication of any sort of bench marking in the examples in Mullinax and I cannot think of any other buckles benchmarked in this manner. It is very likely that this is a marriage. If a marriage it could not possibly have matching benchmarks, and in any case the benchmarks are not the same lettering style. My opinion is that the benchmarks are bogus, but this does not necessarily mean that the pieces are bad. If it is a marriage, then you have to evaluate each piece separately. The tongue looks a little too close to the Hanover Brass example for my liking, but I have not had an opportunity to lay it beside a HB example to actually compare. If the wreath is a marriage, I have not figured out which buckle this came off of. So at this point, we are left with a question. I am aware that a number of experts have gone both ways on this and some have flipped on the issue along the way. So this is posted as a question, I do not claim this piece to be a fake. But I also do not feel the authenticity has been demonstrated. The answer may not be knowable.
---
Plate 421 Virginia seal, sword down, motto above the seal only, oak leaf wreath with adorned keepers,
Original tone had die cast motif applied to cast bar and keeper. This pattern does not bear the words, "Virginia" below the seal. There could be Confederate cast copies.
---
F1118 Virginia two piece buckle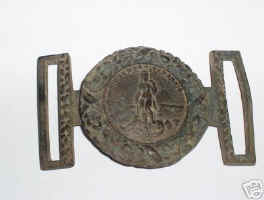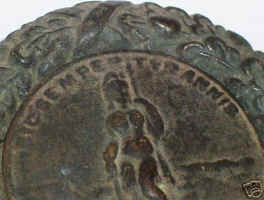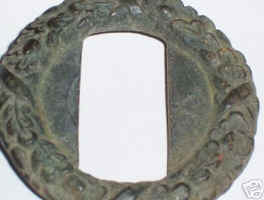 "WOW, LOOOOOOOOOOOOOOOOOOOOOOOOOOOOOOK............... WHAT WE HAVE HERE FOR AUCTION IS A SUPER SUPREME NICE AUTHENTIC DUG CONFEDERATE CIVIL WAR VA 2 pc BUCKLE. NICE DUG PATINA, ONE SIDE ON WREATH END HAS SOME SLIGHT BEND IN THE LOOP FROM BEING BURIED, SLIGHT INDENTIOPNS IN THE WREATH WERE THE TONGUE HAS BEEN SEATED FOR SO LONG. NICE RARE EXAMPLE HERE. THIS IS ONLY PART OF A LIFE LONG DUG COLLECTION OF CIVIL WAR RELICS I WILL BE OFFERING IN THE NEXT FEW MONTHS FOR SELL. PLEASE EMAIL WITHANY AND ALL QUESTIONS, SATISFATION GUARANTEED, 3 DAY INSPECTION PERIOD. US SHIPPING WILL BE $10.00
source ebay auction 6/27/06 by vintage_comics_and_collectibles: AUTHENTIC DUG CONFEDERATE CIVIL WAR VA 2 pc BUCKLE Item number: 2500022
Editor note: This seller sells on ebay auction under "Private Auction" . It is highly doubtful this piece can be shown to be authentic.
---
Plate 422 Virginia seal sword down, motto above the seal only, oak leaf wreath, fancy keeper with twisted rope look
Original has die struck disc.
---
F1048 Virginia2-Piece Belt Buckle, manufactured by Hanover Brass



"This reproduction Virginia plate was cast from an original. Cast in yellow brass. A very rare plate. The original is pictured in the buckle books."
Source: ebay auction by jaglady00 4/15/06 "Virginia2-Piece Belt Buckle Plate copy from original buckle in the VA .Historical Society Item number: 6621082575"
Editor note: "jaglady00" is Hanover Brass, items sold as reproductions. I am not sure where this star on the back is coming from, probably this is a wreath doing double duty with another buckle.
Additional comment from Gary Williams:
"I copied a lot of Norm Fladerman's buckles. The buckles that have the star on the back were pictured in reference books. He placed a paper star and it came out in the sand mold as a solid brass star."
Editor comment: That is great explanation Gary, thank you for marking this plate so plainly. You could clean up this whole mess if you would put something like this on the back of all of your plates!
---
Plate 424 & 426, Virginia seal, sword down, fine detail oak leaf wreath, plain keepers, motto above the seal, "Virginia" below
Original of plate 424 was die stamped, plate 426 is cast copy.
---
F1440 Virginia two part cast buckle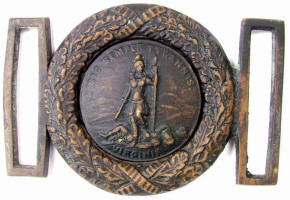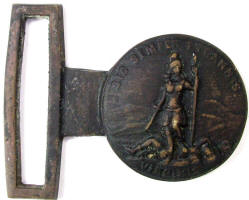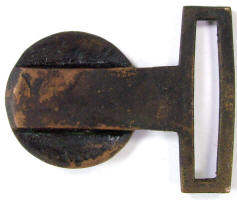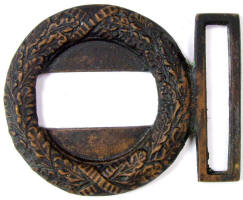 Tongue keeper: 46.7mm
Wreath keeper: 47.5mm
Wreath height: 54.4mm
Editor note: Plate was submitted for evaluation. It is doubtful that this plate can be shown to be authentic.
---
F1129 Virginia two piece buckle, sword down officer buckle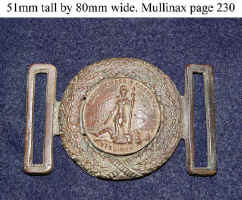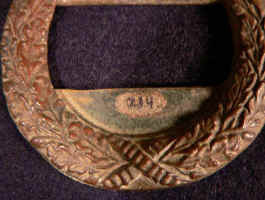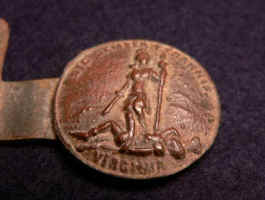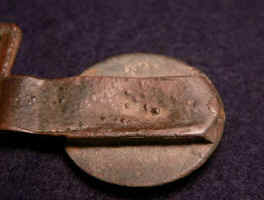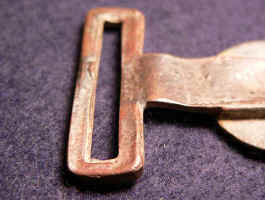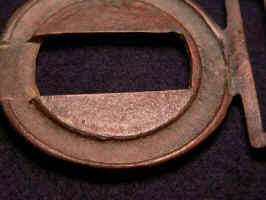 "Hello folks and thanks for looking at my auction. Here is a Civil War Virginia tongue and wreath style belt plate (sword down style) used by Virginia troopers during the Civil War. Sometimes called a two piece belt plate. This fine example was purchased at the 2004 Nashville Civil War show. I received some history on the belt plate as follows: the belt plate was excavated near Winchester Virginia sometime before 1980 by Mr. James Releford of Leetown, Virginia. I don't know the exact location or date of excavation.
The belt plate is brass showing a very nice patina. The very diserable "chocolate" patina is seen on much of the belt plate. There is minimal pitting and loss of brass. The belt loops are nearly perfect and not bent. Wreath is in fine condition. A collector's index number is visible on the wreath. This style belt plate is shown in the two "bibles" of Civil War era belt plates; Kerksis and Mullinax. The measurements of the belt plate are correct.
The belt plate is 100% guaranteed to be authentic from the Civil War era. The winner has a 10 day inspection period for return minus shipping and insurance costs. I have set a very low reserve to protect my investment. Send me an offer if you like. Please bid with confidence, this belt plate is right as rain!
I will accept certified funds for payment. Money order or cashier check. I will also accept a personal check but must have a short waiting period for the check to clear the account. I am sorry but I do not accept Paypal. Shipping and handling cost is $8 to the USA. Insurance is required and will be calculated at the close of the auction. International bidders are encouraged to bid. I will answer any quesions you may have, just email me. Thanks for your attention and good luck.
Source: ebay auction by myoldrelics 7/14/06 Civil War Virginia Belt Plate Tongue & Wreath Excavated 100% Authentic Winchester Virginia With History Low Res Item number: 130005114785
Editor note: This was private auction, buy it now $1,150, what a deal! Editor note: This seller sells on ebay auction under "Private Auction". It is highly doubtful this piece can be shown to be authentic.
---
Plate 427 and 428, Virginia seal sword down, motto above the seal, "Virginia" below, die stamped tongue manufactured prewar by JS Smith , wreath is oak leaf keeper adorned.
Plate 427 bears the maker mark, plate 428 does not. Both examples shown are die stamped finely crafted. There could be Confederate cast copies, but there are simply too many of these cast buckles floating around, most are going to be fakes.
F1221 Virginia two piece buckle, swords down oak leaf wreath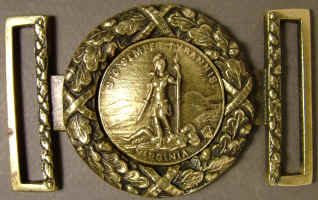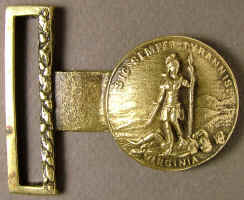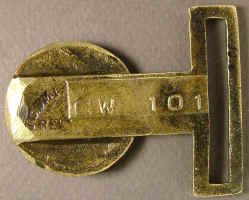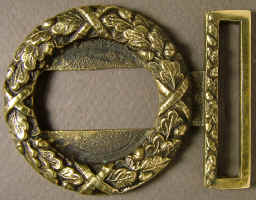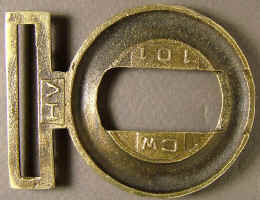 Tongue keeper 48.8mm
Wreath keeper 48.9mm
Wreath height 52.4mm
Editor note: Buckle was obtained in late 1990's to wear, I regularly wear this on my winter coat! This example is well marked "CW101", which I understand is a casting by Gary Hall, Brass Treasures Williamsburg Va. He cast buckles from 1989 to present. He puts CW for civil war. Wear around the edges is from my wearing it, now for several years. This is a copy of the JS Smith design, with floral wreath and oak leaf wreath.
---
F1218 Virginia two piece buckle, manufactured by Hanover Brass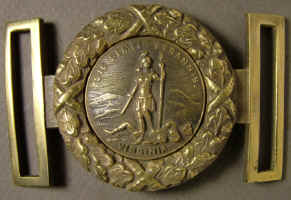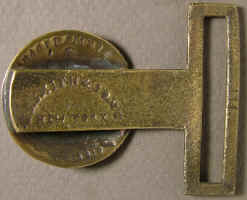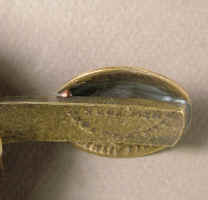 Tongue keeper 49.3mm
Wreath keeper 49.7mm
Wreath height 52.9mm
Editor note: Buckle was obtained direct from Hanover Brass in late 1990's to wear! I do not find any Hanover Brass marks or logos anywhere on this buckle. Also note that it was made in three pieces, the motif is cast separately from the tongue and brazed to the tongue bar. The motif appears to be a copy of either Plate 424 or 427, the tongue bar and keeper are from Plate 424, and the wreath is a stock oak leaf wreath that is used on a number of other buckles. The collector should be cautioned, is that these buckles can be easily mixed and matched.
---
Gary Williams explanation, (civilwarfakes.com Photo # CSVA17)


Plate 427 (1860-1861 Virginia Two Piece Belt Plate.) 51 x 88/wreath ht. 54mm. Marked GW inside the original maker James S. Smith & Sons, New York. The original of this reproduction had a die stamped center piece applied to the tongue bar. It was a detailed thin stamped seal. My reproduction is a cast center and thicker than the original and should not be a problem because as I destroyed the back detail in the center piece.
Editor note. This is much more elaborate than a re-enactor needs, and I should note that these plates are not marked as repro in any way. Technically the plain bar is not correct, but original variants could have been made with a plain bar. The reason the back of the motif is blank is because this area was obscured when attached to the tongue bar. Once reattached this will be invisible again, so you really cannot go by that. Once aged, this buckle will be hard to detect. So is this made for "collectors" to have and enjoy or was it made for the fakers to sell to collectors?
---
F1176 Virginia two piece buckle, swords down oak leaf wreath



"YOU ARE BIDDING ON A NICE VINTAGE VIRGINIA'S OFFICER TWO PIECE BUCKLE , BRONZE OR SOLID BRASS MADE
HIGH : 2 INCHES
LENGTH : 3,4 INCHES
MY FATHER BOUGHT IT IN 1976 BY ANTIQUE DEALER IN MIAMI TOGETHER WITH THE OVAL CS BUCKLE IN AUCTION ( HE ALSO BROUGHT BACK SOME US CIVIL WAR INSIGNIAS AND A NICE 1851 2 PIECE BELT BUCKLE THAT APPEARS TO BE 100 % GOOD , AS IT REACHED USD 200.00 IN AN AUCTION HERE IN FRANCE 15 YEARS AGO..) ITS SHOWS SOME WEAR AND PATINA THERE ARE AN INSCRIPTION ENGRAVED ON BACK THAT I CANNOT ENTIRELY READ " JESS..RS W.....TORY " ( ??? ) NEVERTHELESS , I CANNOT SAY IF THIS IS AN OLD MOVIE REPRO OR A GOOD ONE , AS I KNOW THAT CONFEDERATE ITEMS ARE A QUITE RARE THING .
Source: ebay auction by gory13 7/21/06, "VIRGINIA'S TWO PIECE CIRCULAR VINTAGE BUCKLE Item number: 130007422486
Editor note: This could be an old Hollywood piece as the seller suggests. The mark on the back is hard to read, but is a maker mark originally intended to distinguish this piece from the originals. The piece is poor quality, note that part of the wreath well failed to fill during casting, and the detail of the motif is poor. It is highly unlikely that this piece can be shown to be authentic.
---
Virginia two part Frankenstein plate
---
FP

1631


Virginia two piece buckle, swords down, cast
Construction is solid brass casting, very crude pattern, swords down style of Virginia seal, oakleaf wreath is flat back. Patina seems light to me, style is unknown. Recovered: not known Tongue keeper 49.2mm, wreath keeper 49.4mm, wreath 49.0mm. Ref: Mullinax Plate 421 to 428 not listed likely fake. It is my opinion that the tongue is repro. It does not seem to match any of the examples in Mullinax book detail is very very crude and patina is light. Measurements are considerably smaller than any published examples. The wreath appears to be from a CS balls serif two piece buckle, it may be real but appears to be repaired, the keeper appears to have been reattached to the wreath.
Editor note: This buckle was submitted for evaluation and rejected. So is this fake or real, comments and opinions solicited.
---
[Return to relicman main page, (real stuff), enough of these fakes!]