---



Fakes, reproductions, replicas,
an investigative report, by Harry Ridgeway
---
Fakes, reproductions, replicas,
Virginia rectangle buckle, Confederate plates 431 to 433
Disclaimer: by clicking onto this page you are expressly accepting the terms of the disclaimer explained fully on the fakes main page.
---
---
Plate 431, Virginia rectangle, ribbon up, JS Smith patttern
Original was die stamped, original JS Smith pattern is thin, die work is sharp. The die work is similar, for quick reference, the ribbon on the right side seems to trail down in the Horstmann pattern, trail up with JS Smith pattern, there are also other differences.
---
F1049 Virginia rectangle enlisted plate, manufactured by Hanover Brass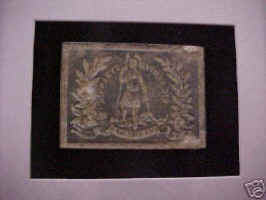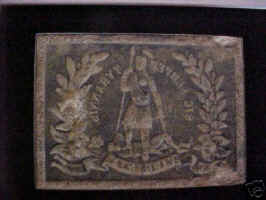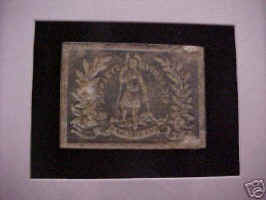 "This reproduction die stamped James S. Smith Virginia Belt plate is of the finest quality. It is cast from an original battlefield dug buckle. This is a Hanover Brass Foundry reproduction plate that I have put a little spin on this time. I know that as you examine the photos you will be amazed at how much this one looks like a dug relic. It is not original and it is marked "gw" in an inconspicuous place for your display. The Foundry over the years has cast and aged reproductions of this caliber for museums and well respected collectors and dealers in order that their original be kept in a safe place and the repro on display. It is not a simple, quick process but the results have proven to be effective, don't you agree? This plate is exact in every detail. There is a 1mm size difference than the original. REMEMBER, reproductions are always 1mm - 2mm smaller than the originals. This is not a fake, but a quality replica. It would only become a "fake" if someone buys this, removes the "gw" mark, and resells it as an original. Like other fine reproductions, ( think of Franklin Mint for example), the value of this plate will only increase in value over time. This makes a very nice Civil War display. While dining recently, I was surrounded by what I thought to be displays of original antiques, but upon checking the prices of the items, I learned that these were indeed reproductions. The original of a dug Virginia belt plate currently sells in the $4000 range. This is the second of a series of aged buckles that I will post over time, since Gary Williams ("gw") will use some of his originals from his many years of collecting, to make selected reproductions for me. What you are getting then is a copy straight off the orginal belt plate rather than a 2nd generation copy. I am sure you will appreciate the craftsmanship."
Source: ebay auction by jaglady00 "James S. Smith Virginia Belt Buckle Plate Reproduction aged as dug original Item number: 6605206292"
Editor note: "jaglady00" is Hanover Brass, items sold as reproductions.
This piece has now been submitted to me for examination:


Plate measures 50.6mm X 70.0mm
Thickness is 2.6mm
Editor note: I am unable to capture this in the pictures but the plate seems slightly heavier than the orginals. I have examined two of these plates so they are out there, plus there is the ebay example below. This one is the example jaglady00 put on ebay, it was then given to a reputable collector for illustration who allowed me to photograph and measure it. The second one I examined is stuck in another reputable collection, that guy paid significant dollars for it. I do not find any traces of HB marks on this buckle, I doubt there ever were marks on either of these buckles. The buckle has been carefully aged, and appears to be authentic front and back. Solder marks have been placed on the correct spots on the back and aged. So what is the point of selling a "repro" with no hooks? What was the purpose of this plate and why are so many showing up in otherwise good collections?
---
F1245 Virginia rectangle belt plate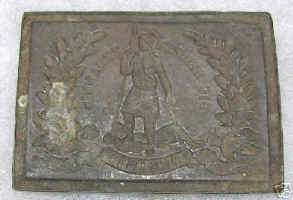 "This buckle was purchased as an original 3 years ago. It was said to have been dug near the Seven Days Battle in the 1980's on private property with owners permission. Brass bar and attachment hooks are missing, but brazing marks remain. These were notorious for breaking in field use, and some were punched with holes to make into box plates. This style is said to have been made by "James S. Smith & Sons / New York." This buckle is made of stamped brass, not cast. It is way too thin to be cast. It is also not the style made by "Historical Reproductions," nor is it a Hanover Brass reproduction. It has become apparent that plates considered original 10 or 15 years ago are now being called fake, even with Mullinax letters. Who knows what is real these days? I am selling this for whatever it brings, and all sales are final. Let the "experts" decide, since they know everything, or at least pretend to. Sold as-is, all sales absolutely final, that means 10 years from now or even 100. Email any questions. Buyer to pay $5.00 shipping. Insurance is optional. Buyers outside the USA pay $12.00 Thank you for viewing."
Source: ebay auction by passo_romano 12/2/06: "STAMPED BRASS VIRGINIA STATE SEAL RECTANGLE BELT BUCKLE Item number: 330053249469"
According to ebay records, here is the identity of this seller:
Contact Information for passo_romano :
User ID: passo_romano
Name: Jeff T. Girardi
Company:
City: Richmond
State: VA
Country: United States
Phone: (804) 267-3461
Registered Since: Monday, Jun 25, 2001 08:56:39 PST
Editor note: I had occasion to examine one of these plates at a show, I don't think it was this one but was one like it. Both the one examined and this one pictured on this ebay ad look eerily similar to F1049 pictured above, same style, same aging, same everything. I did not have my camera at that time so do not have pictures of the plate examined, however, several experts examined it and all reached the same conclusion. Measurements were small and the plate was extremely heavy in comparison to other authentic examples. Variations in thickness are not going to be easily captured in any of the pictorial records. It does not seem to be difficult to age the patina on these buckles, however the devil is in the detail and the details are not right for this buckle, in my opinion. I suppose I should feel honored somehow, am not sure specifically who he is referring to about these "experts" in his auction language, but all I can say is that this seller is very well known and his selling activity is frequently the topic of discussion in the collecting community. If anybody has any experiences that they would like to add, I will certainly be interested in hearing from you.
---
---
Plate 432, Virginia rectangle, ribbon down, Horstmann patttern
Original was die stamped, sheet is slightly thicker than the JS Smith pattern. The die work is similar, for quick reference, the ribbon on the right side seems to trail down in the Horstmann pattern, trail up with JS Smith pattern, there are also other differences.
---
FP

0691

Virginia militia waist belt plate
---
Item was purchased from:
Dennis Wheeler
The Civil War Shop
807 N Howe St.
Southport NC 28461
Mr Wheeler has now changed his venue, his new address is:
Dennis Wheeler
5017 B Lawndale Drive
Greensboro, NC 27455
Further he is continue to sell fakes on ebay, new handle is: cputrader60
Editor note: I am told by other collectors in his area that this seller has a reputation for dealing in questionable items, and at least one collector that I spoke to claimed that he had personally been cheated by this guy. Further I am told that this dealer shut down his shop in Southport NC and has moved to Hickory NC or vicinity. So apparently this guy has changed his venue and is preying on the collectors of central NC!
eFake handle is "ncdealer" By the way, this dealer has about 20 positive feedbacks on eBay and no negative feedbacks. Is the eBay feedback system a farce?
---
---
F1222 Virginia rectangle buckle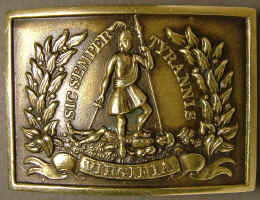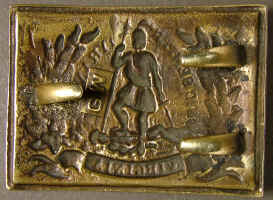 Plate measures 48.0mm X 66.2mm, it is very thick
Editor note: Gary Williams gave this belt plate to me along with a belt, both of which I wore to shows for many years. These thick stud hooks and thickness of the plate make it very durable, I have worn it a lot and it wears much better than anything from the period would. There is no reason for anybody to be fooled by this buckle, although somebody did bring me one to sell me one time! There was a time when Hanover Brass produced honest repros and this is one of them. But as you can see from above, they are now making their "exact copies" much more accurately. They say they are not producing fakes. yea yea, you can be the judge of that.
---
F1247 Virginia rectangle buckle


"AUCTION IS FOR A 100% GUARANTEED AUTHENTIC NON-DUG CIVIL WAR CONFEDERATE VIRGINIA WAIST BELT PLATE. THIS PLATE IS IN SUPERB SHAPE AND CAN BE REFERRENCED TO PLATE 391 IN THE MULLINAX CONFEDERATE PLATE BOOK. PLATE STILL RETAINS LOOP KEEPER ON BACK, BUT IT IS WEAK AND RUSTY. NICE PATINA. THIS BUCKLE WAS PURCHASED BY ME PERSONALLY 2 YEARS AGO FROM A DEALER AT THE NASHVILLE CIVIL WAR RELIC SHOW. PLATE HAS BEEN APPRAISED AT WELL OVER 4K+. I AM NEEDING THE CASH NOW TO HELP WITH RECENT DOCTOR BILLS SO I WILL BE SELLING OFF A LOT OF MY COLLECTIBLES TO HELP OUT. PLEASE EMAIL WITH ANY AND ALL QUESTIONS, THIS P[LATE IS PRICED TO MOVE............ I AM NOT A BIG TIME CIVIL WAR DEALER, SO I DONT NEED PRIMO PRICE FOR MY STUFF UNLIKE MOST. PLATE WILL COME WITH A 3 DAY UNCONDITIONAL MONEY BACK GUARANTEE INSPECTION PERIOD. PLEASE EMAIL WITH ANY AND ALL QUESTIONS, US SHIPPING WILL BE $6.00"
Source: ebay auction by vintage_comics_and_collectibles 11/13/06: "NON-DUG CIVIL WAR CONFEDERATE VIRGINIA WAIST BELT PLATE 100% GUARANTEED AUTHENTIC NON-DUG SPECIMEN Item number: 2500491645"
Editor note: This seller sells on ebay auction under "Private Auction" and is frequently the subject of conversation on the NVRHA forum on fakes. It is highly doubtful this piece can be shown to be authentic. It appears that this is a doctored example of the Virginia made by Historical Reproductions.
This plate has now been submitted by the buyer for examination with the following result: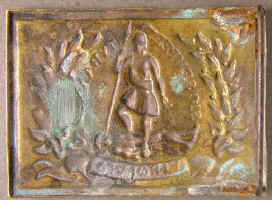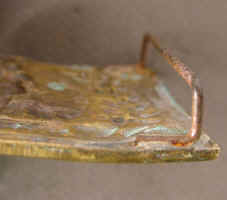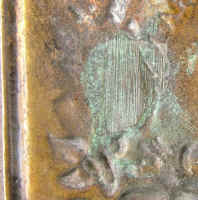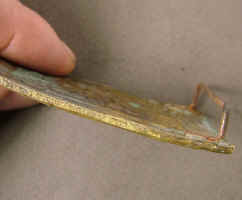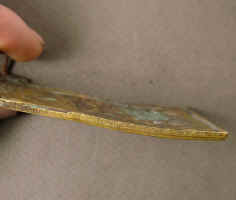 Plate measures 50.1mm X 68.9mm
Editor note: This is a very dangerous fake. It appears to be the Historical Reproductions version of this plate which is cast using the lost wax process. The thickness is close, but on detail it is clearly a cast plate and not stamped. The casting quality is improved over the example I earlier noted (P0691), however both came from the same foundry in my opinion.
The buyer also submitted a copy of the following email:
"From: JUNKBUYER2004@aol.com
Subject: RE Item #250049164512 - Notification of an Instant Payment Received from we....
Date Mon, November 20, 2006 1:23am
To: (not listed)
You got 3 days from when you get it to send it back, for a refund on the va buckle if unhappy i will need a letter from a reputable dealer accompanied with the buckles return for full refund stating it is no good. i know the plate you bought is a good plate and not a thing wrong with it. send it to mullinax like I said or jeff girardi of richmond relics and either will tell you it is a genineplate"
Editor note: A seller cannot limit fraud by limiting the timeframe for a claim. There is no way on god's green earth that this could be complied with. it usually takes at least three days each way, no way to get it to a third party and back in time to meet this requirement, particularly when it took longer than that to get to the buyer to start with. This seller claimed it was authentic, it clearly is not authentic, that would appear to be fraud. This is why I have launched this investigation and why this buyer is so prominently featured in this blog. It is highly unlikely, as in nearly impossible, that this plate can be shown to be authentic. It is also significant that Jeff Girardi and vintage comic... are clearly working together, this email is irrefutable proof of that.
---
F1254 Virginia enlisted belt plate, manufactured by Hanover Brass



"Hanover Brass sand cast buckle. Less pits than the wax cast buckle. My plate is thicker but only way metal will flow."
Source: posting on the NVRHA forum site by "plateman" who is Gary Williams

Editor note: This is the Horstmann style. The casting is clearly high quality and close to accurate. What ever happened to the bold marks and strong hooks that used to be in Hanover Brass production?
---
FP

1519

Virginia enlisted belt plate, apparently a fake
---
F1163 Virginia rectangle plate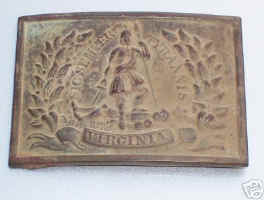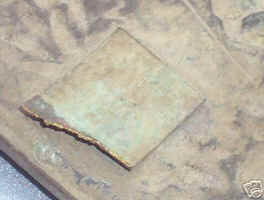 "AUCTION IS FOR A 100% GUARANTEED AUTHENTIC CIVIL WAR CONFEDERATE VIRGINIA STATE SEAL HORSTMAN STYLE BELT PLATE. THESE WERE CA: 1852-1861 MILITIA STATE BUCKLES. BUCKLE WAS DUG NEAR WILDERNESS BY THE ORIGNAL OWNER OF THE BUCKLE WHOM I ACQUIRED THE PIECE FROM. TONGUE IS MOSTLY BROKEN OFF AS WELL AS THE BELT LOOP BAR. BUCKLE IS SIMLIAR TO PLATE 432 ON PAGE 234 IN THE MULLINAX PLATE BOOK. THIS PLATE MEASURES 51MM X 70MM IN SIZE. PLEASE EMAIL WITHANY AND ALL QUESTIONS BEFORE BIDDING, 7 DAY INSPECTION PERIOD ALLOWED ON PURCHASE OF BUCKLE, SATISFACTION GUARANTEED, YOU WILL NOT BE DISAPPOINTED. US SHIPPING WILL BE $6.00"
Source: ebay auction by vintage_comics_and_collectibles, 8/6/06 " AUTHENTIC CIVIL WAR CONFEDERATE VIRGINIA BELT PLATE CA: 1852-1861 HORSTMAN STATE SEAL MILITIA BUCKLE DUG Item number: 250013590624"
The following exchange was posted on the NVRHA Fakes Forum regarding this auction:
" I contacted Vintage Comics & Collectibles to inquire about a Virginia belt buckle he was selling for a very low buy it now price. Here is the message I sent, as well as his response:
Hi~
I'm new to civil war collecting and this Virginia buckle caught my eye. I notice that your buy it now price is a lot lower than what I see these sell for in relic shops. They want at least $2500 for one like this. Why is yours so low? Also, I was on another site and they mention you as a seller of fake items. What do you say to that?
Jim
Here is his response:
hello the reason people down my items and say i sell fake stuff is to try and detur people from bidding on my items where i do sell so low i have even had stuff i have sold took to one of the so called reknown dealers and they say it is fake, but, i take the item back as stated in my description and re-sell it because i know when i say something is real, it is real. but they hate it because i sell cheap and it drives there prices down to were they cannot get premium out of there stuff. i like to buy it cheap so i can sell it cheap. i am not out to make a fortune on cw items, just make a few bucks and make someone happy is all, please email any time you have a question and i will asnwer to the best and honest i can
After finding this site and researching Vintage Comics, I decided to pass on the buckle. Thanks for the good work you do, and for saving me some money!"
Editor note: This seller sells on ebay auction under "Private Auction" . It is highly doubtful this piece can be shown to be authentic.
---
F1198 Virginia rectangle buckle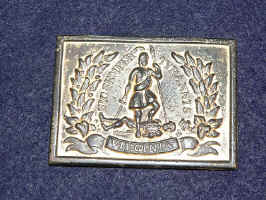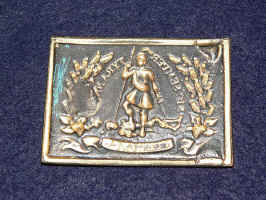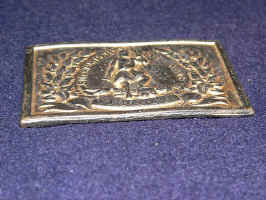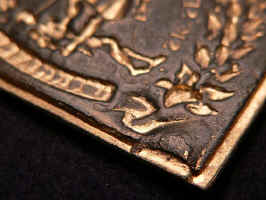 "Send me your best offer. Hello folks and thanks for looking at my auction. Here is a Civil War Virginia militia Confederate brass belt plate worn by Virginia troopers during the Civil War. This is the rare die struck rolled brass belt plate made in 1861. It is a flat plate, not curved as the more common Virginia plates. This fine example was purchased at the 2004 Nashville Civil War show by myself. I purchased many fine plates that year. I received some history on the belt plate as follows: the belt plate was excavated near Winchester Virginia sometime before 1980 by Mr. James Releford of Leetown, Virginia. I don't know the exact location or date of excavation. I am sad to say that I must sell off many of my prized relics as I have been recently diagnosed with diabetes and must pay hospital bills.
The belt plate is brass showing a very nice patina. The very diserable "chocolate" patina is seen on much of the belt plate. Much of the gold gilting is still present. There is minimal pitting and loss of brass. This style belt plate is shown in the two "bibles" of Civil War era belt plates; Kerksis and Mullinax. The measurements of the belt plate are correct, approximately 70mm wide by 51mm tall. Mullinax Plate 433, page 234 in the Expanded Edition.
The belt plate is 100% guaranteed to be authentic from the Civil War era. The winner has a 10 day inspection period for return minus shipping and insurance costs. I have set a very low reserve to protect my investment. Send me an offer if you like. Please bid with confidence, this belt plate is right as rain!
I will accept certified funds for payment. Money order or cashier check. I will also accept a personal check but must have a short waiting period for the check to clear the account. I am sorry but I do not accept Paypal. Shipping and handling cost is $8 to the USA. Insurance is required and will be calculated at the close of the auction. International bidders are encouraged to bid. I will answer any quesions you may have, just email me. Thanks for your attention and good luck."
source: ebay auction by "myoldrelics ( private )" 10/15/06 , "Original Civil War Virginia Militia Belt Pate 1861 RARE 100% Authentic Winchester Virginia With History Low Res Item number: 130035161673"
Editor note: This seller sells on ebay auction under "Private Auction". It is highly doubtful this piece can be shown to be authentic.
---
[Return to relicman main page, (real stuff), enough of these fakes!]