---



Fakes, reproductions, replicas,
an investigative report, by Harry Ridgeway
---
Fakes, reproductions, replicas,
Virginia sword plate, Confederate plate 434
Disclaimer: by clicking onto this page you are expressly accepting the terms of the disclaimer explained fully on the fakes main page.
---
---
The original plate was a relatively high quality casting, probably was cast then pressed into a die to sharpen the detail, tongue is brazed on, originals were benchmarked probably to facilitate assembly.
---
F1045 Virginia sword plate made by Hanover Brass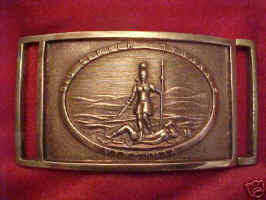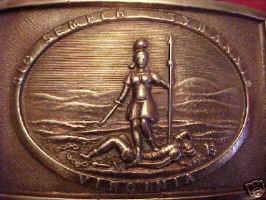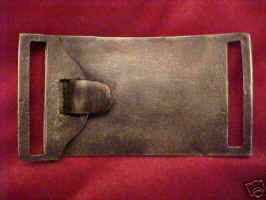 "This reproduction Virginia Sword Belt plate is of the finest quality. It is cast from an original battlefield dug buckle. Great detail and cast in yellow brass."
Source: ebay auction by jaglady00 4/15/06 "Virginia Sword Belt Buckle Plate Item number: 6621081565"
Editor note: "jaglady00" is Hanover Brass, items sold as reproductions.
---
F1447 Virginia sword plate made by Hanover Brass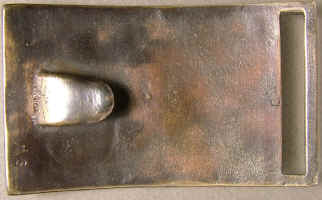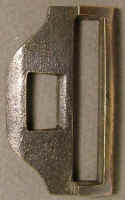 Height 49.8mm
Length without keeper 85.1mm
The following comment was submitted by Gary Williams, maker of this plate:
"Should be 1 to 2 mm smaller than original as all of my reproductions. Look at an original very close, you will find no sand marks. These belt plates, Virginia, Mississippi, Alabama Maryland etc were cast in the wax style or struck in a metal die after cast. You will not see any sand texture on an original. A dot in the center of the back and slick back file marks only at the hook end. No file marks anywhere else. Very well made with hooks applied very thick at base. Soldered with yellow solder that will age make the hook look cast with the plate but, no no, it is applied. Study the original, there is a big difference in original and reproduction, sand cast vs. wax or metal mold."

Editor note: Plate was obtained directly from Hanover Brass as a sample of his production. Note that any maker marks on this buckle are weak, apparently so that they can be easily removed or obscured.
Editor note: It appears that this piece has been buffed on the back to smooth the grain from casting. The detail on the plate is also slightly less crisp than on the original, however an original with ground action can appear to lack this level of detail. The difference can be difficult to judge.
---
F1005 Virginia sword plate made by Hanover Brass, aged with "dug" patina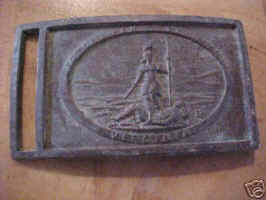 "This reproduction Virginia Sword Belt plate is of the finest quality. It is cast from an original battlefield dug buckle. This is a Hanover Brass Foundry reproduction plate that I have put a little spin on this time. I know that as you examine the photos you will be amazed at how much this one looks like a dug relic. It is not original and it is marked "gw" in an inconspicuous place for your display. The Foundry over the years has cast and aged reproductions of this caliber for museums and well respected collectors in order that their original be kept in a safe place and the repro on display. It is not a simple, quick process but the results have proven to be effective, don't you agree? This plate is exact in every detail, including the hook which was originally brazed onto the plate rather than being cast with the plate. There is a 1mm size difference than the original. REMEMBER, reproductions are always 1mm - 2mm smaller than the originals. This is not a fake, but a quality replica. It would only become a "fake" if someone buys this, removes the "gw" mark, and resells it as an original. Like other fine reproductions, ( think of Franklin Mint for example), the value of this plate will only increase in value over time. This makes a very nice Civil War display. While dining recently, I was surrounded by what I thought to be displays of original antiques, but upon checking the prices of the items, I learned that these were indeed reproductions. The original of a dug Virginia Sword belt plate currently sells in the $4000 range. This is the first of a series of aged buckles that I will post over time, since Gary Williams ("gw") will use some of his originals from his many years of collecting, to make selected reproductions for me. What you are getting then is a copy straight off the orginal belt plate rather than a 2nd generation copy. I am sure you will appreciate the craftsmanship."
Source: ebay auction by jaglady00 2/9/06 "Virginia Sword Belt Buckle Plate Reproduction aged as dug original Item number: 6603097656"
Editor note: "jaglady00" is Hanover Brass, items sold as reproductions. I do not see the marks on this plate and it certainly has been carefully aged. I also do not know how many of these are out there. This seems like a very dangerous piece.
The following additional pictures were submitted by the current owner of this plate:
Editor note: Plate is owned by savage station.com and is said to measure 46mm X 83mm, that is a large amount of shrinkage from the originals, which generally measure around 51mm X 88 or 89mm depending on the curve. Perhaps this is an early example of the production from Hanover Brass fakes which had significant shrinkage. Apparently they have managed to produce other examples more recently closer to the size of the originals. I have not examined this plate.
---
F1119 Virginia buckle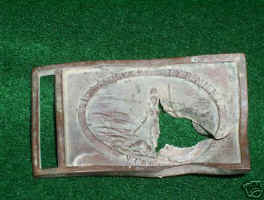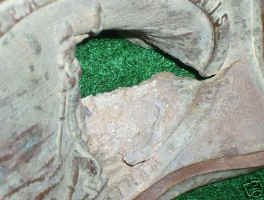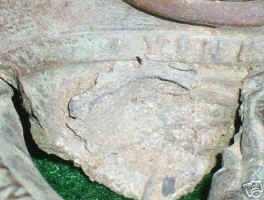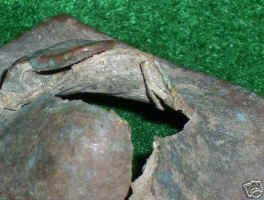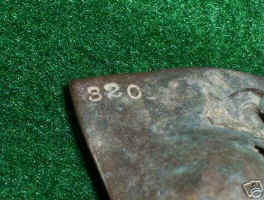 "WOW................................... UP FOR ACTION IS A GENUINE AUTHENTIC EXCAVATED CIVIL WAR BULLET STRUCK CONFEDERATE VA RECTANLGE WAIST BUCKLE. THIS IS A VERY UNIQUE PIECE. THIS IS PART OF A HUGE COLLECTION I RECENTLY ACQUIRED FROM THE ORIGINAL OWNER WHOM PERSONALLY DUG OVER 90% OF THE STUFF. THIS PARTICULAR PIECE WAS DUG ON PRIVATE LAND ON THE OUTSKIRTS OF CHARLESTON SOUTH CAROLINA. ALSO ON THE HOLE IN THE BUCKLE YOU CAN SEE REMNANTS OF LEAD WHERE THE BULLET WENT THROUGH THE BUCKLE. VERY NICE AND MEASUREMENTS ARE CORRECT FOR THE PIECE ACCORDING TO THE BOOK. 3 DAY MONEY BACK INSPECTION PERIOD WILL BE ALLOWED, YOU WILL BE PLEASED WITH THIS PIECE. PLEASE EMAIL WITH ANY AND ALL QUESTIONS, US SHIPPING WILL BE $6.00"
Source: ebay auction by vintage_comics_and_collectibles 7/3/06 "AUTHENTIC EXCAVATED CIVIL WAR BULLET STRUCK VA BUCKLE CONFEDERATE RECTANGLE VIRGINIA WAIST BUCKLE CHARLESTON Item number: 250004158355"
Editor note: This plate was sold on ebay auction under "Private Auction". This plate is highly damaged and altered, pictures small and fuzzy so there is not enough information here to accurately determine the actual origin of this plate. However, it is highly doubtful that this plate can be proven to be authentic.
---
[Return to relicman main page, (real stuff), enough of these fakes!]