---



Fakes, reproductions, replicas,
an investigative report, by Harry Ridgeway
---
Fakes, reproductions, replicas,
Mount Vernon Guards 175th Regiment, Confederate plate 450
Disclaimer: by clicking onto this page you are expressly accepting the terms of the disclaimer explained fully on the fakes main page.
---
The original plate was made of sheet brass, hand etched.
---
F1115 Mount Vernon Guards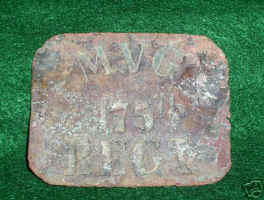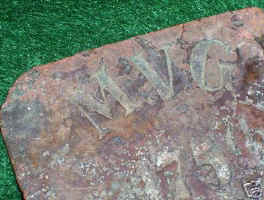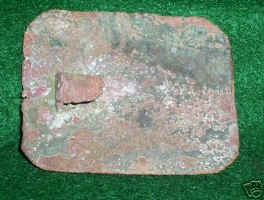 "WOW................................ IF YOU BUY ONE CIVIL WAR RELIC THIS YEAR, THIS IS THE ONE FOR YOU............................WHAT WE HAVE HERE IS A 100% GUARANTEED AUTHENTIC CIVIL WAR MOUNT VERNON GUARDS 175TH REGIMENT (ca. 1845-1855) BELT BUCKLE. THIS IS A EXTREMEMLY RARE PIECE AND I HAVE NEVER SEEN ONE UP FOR SELL BEFORE. THIS PIECE WAS FOUND BY THE ORIGINAL OWNER IN NORTHERN VA IN A DISCLOSED LOCATION FOUND LAYING IN A DRIED CREEK BED WHICH EXPLAINS THE ROUGH SHAPE OF THE PIECE. HAS A HEAVY PATINA AND HEAVY PITTING TO THE PIECE. THIS PLATE IS LISTED AS PLATE 450 IN THE MULLINAX EXPANDED EDITION. THIS PARTICULAR BUCKLE IS MISSING THE BELT LOOP BUT HAS THE HOOK STILL. PLATE MEASURES 59mm x 85mm +/- 1/2mm. VERY VERY SCARCE PLATE AND IS GIVEN A RARITY OF 9+. I RECENTLY BOUGHT OUT A HUGE CIVIL WAR RELIC COLLECTION AND WAS VERY EXCITED WHEN I SAW THIS PIECE IN WITH IT. I REALLY HATE TO SELL THIS ONE, BUT I MUST TO HELP PAY FOR THE COLLECTION. PLEASE EMAIL WITHANY AND ALL QUESTIONS BEFORE BIDDING, SATISFACTION GUARANTEED ON THIS PIECE. 3 DAY INSPECTION PERIOD WILL BE ALLOWED, BUT TRUST ME, ALL YOU WILL NEED IS TO PULL THIS OUT OF THE PACKING AND YOU WILL FALL IN LOVE....................... US SHIPPING WILL BE $15.00 INSURED PRIORITY MAIL ONLY, THANKS FOR LOOKING AND GOOD LUCK.................................................................."
Source ebay auction 7/10/06 by "vintage_comics_and_collectibles" AUTHENTIC CIVIL WAR MOUNT VERNON GUARDS BELT BUCKLE SCARCE DUG MVG MOUNT VERNON GUARDS 175th REGIMENT Item number: 250004504440
Editor note: This seller sells on ebay auction under "Private Auction". It is highly doubtful this piece can be shown to be authentic.
This plate has been offered and presumably sold a number of times on ebay. The auction appearing above was run in July 06, I have seen it more than once since. A buyer who "won" the auction in October 2006 has submitted this buckle to me for analysis and here are pictures of it: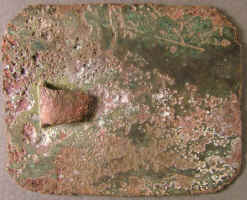 Plate measures 58.3 to 58.6 (not square) X 73.5mm
Editor note: The sheet brass is very heavy, the lettering is very deep. The original had a bar soldered to the back, I find no evidence of any form of soldering. The letters on the original were etched, these look to be cut and milled. The plate is also way off of the measurements of the original. I do not have an original to compare this to, but I stand behind my initial conclusion that it is highly unlikely this piece can be shown to be authentic.
---
[Return to relicman main page, (real stuff), enough of these fakes!]