---



Fakes, reproductions, replicas,
an investigative report, by Harry Ridgeway
---
Fakes, reproductions, replicas,
Militia officer two part buckle, Federal plates 274 to 279
Disclaimer: by clicking onto this page you are expressly accepting the terms of the disclaimer explained fully on the fakes main page.
---
---
Fancy pattern usually employs die stamped motif applied to a cast tongue, wreath may be plain or decorated, ornate keepers.
---
Pattern 278 Infantry
Original tongue was die cast motif applied
---
F1450 Militia two part buckle, infantry, pattern 278 or 279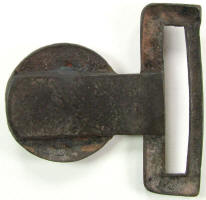 The originals of this pattern were die stamped, this example is cast and aged.
Tongue keeper: 55.0mm
Wreath keeper: 54.0mm
Wreath height: 48.0mm
Plate was bought by a reputable dealer who has absorbed his loss, and gave this buckle to me to photograph for this fakes project. It has a deep dark patina and is not marked in any way to identify it as a repro.
---
Gary Williams explanation (civilwarfakes.com Photo # EM19)


Plate 278 (variant) (1835-
1842 Eagle Infantry Two Piece Belt Plate.) 56 x 83/82 smooth wreath ht. Silver plated or brass. Marked GW. This is the two piece that I made for many years. The belt loops are bent and this has a cast tongue where the original has applied center disc. There is another shown that I cast now but this pattern was used for many years. Should not be a problem.
Editor note, It is may not a "problem", now, but damn sure was a problem when you were making and selling them!
---
[Return to relicman main page, (real stuff), enough of these fakes!]