---



Fakes, reproductions, replicas,
an investigative report, by Harry Ridgeway
---
Fakes, reproductions, replicas,
Militia two part buckles, eagle with squared tongue, Federal plates 324 to 333
Disclaimer: by clicking onto this page you are expressly accepting the terms of the disclaimer explained fully on the fakes main page.
---
---
Plates 327 to 329 Eagle on squared tongue
This was a stock patriotic plate, original of plates 327 and 328 were die struck squared disc applied. Plate 329 is crudely cast, generally thought to have been used by northern militias, however enough are found on southern battlefields to suggest southern use was extensive. Cast fakes can be very close to the original and are difficult to determine.
---
F1230 Militia two piece buckle, eagle with fancy wreath, made by Tim Parsley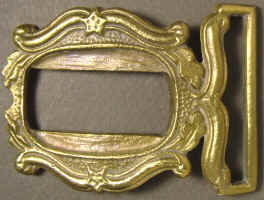 Tongue keeper 52.2mm
Wreath keeper 51.1mm
Wreath height 49.4mm
Editor note: Plate was obtained directly from Tim Parsley as a sample of his production to be used in this presentation.
---
F1080 Militia two piece buckle, eagle with fancy wreath, made by Hanover Brass


"This Early reproduction Militia 2- Piece is cast in yellow brass. Originals have been dug from battlefields and campsites. Worn by Massachusetts troops. Wearable or collectable."
Source: ebay auction by jaglady00 3/12/06 "Ca.1845-1860 Militia 2- piece Belt Buckle Plate Item number: 6611625428"
Editor note: "jaglady00" is Hanover Brass, items sold as reproductions.
---
[Return to relicman main page, (real stuff), enough of these fakes!]