---



Fakes, reproductions, replicas,
an investigative report, by Harry Ridgeway
---
Fakes, reproductions, replicas,
California two part buckle, Federal plate 338
Disclaimer: by clicking onto this page you are expressly accepting the terms of the disclaimer explained fully on the fakes main page.
---
---
Plate 338 California state seal two part buckle
Original is sand cast, somewhat crude casting quality, but will all the fancy California or gold rush trim!
---
F1231 California two piece buckle, manufactured by Tim Parsley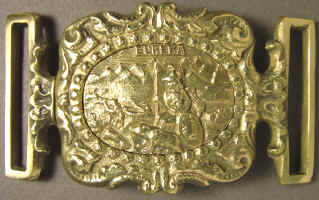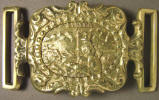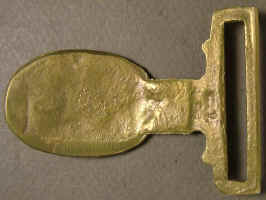 Tongue keeper 50.1mm
Wreath keeper 50.0mm
Wreath height 52.7mm
Editor note: Plate was obtained directly from Tim Parsley as a sample of his production to be used in this presentation.
---
Gold Miners two part plate, not listed
---
F1079 California gold miner two piece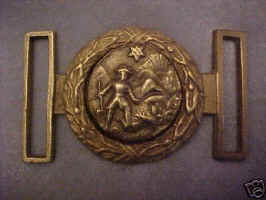 "This is a reproduction of a Gold Miner 2- Piece belt plate. This type belt plate continues to be retrieved from the old gold mines in California. Unusual 1850 period cast belt plate, and the buckle was sold as a package deal when the miners bought their mining equipment. The buckle was used on the miner utility belt. Collectible or Wearable."
Source: ebay auction by jaglady00 3/12/06 "Gold Miner 2- Piece Belt Buckle Plate Item number: 6611625240"
Editor note: "jaglady00" is Hanover Brass, items sold as reproductions.
---
[Return to relicman main page, (real stuff), enough of these fakes!]