---



Fakes, reproductions, replicas,
an investigative report, by Harry Ridgeway
---
Fakes, reproductions, replicas,
Ohio shoulder plate, Federal plate 471
Disclaimer: by clicking onto this page you are expressly accepting the terms of the disclaimer explained fully on the fakes main page.
---
---
The Oho shoulder plate is die stamped, solder filled, and fastened by brass hooks.
---
F1465 Ohio shoulder plate, manufactured by S&S Firearms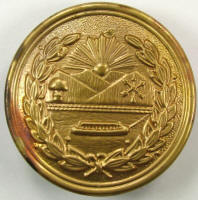 Plate is lead filled and uses brass hooks as did the original. The die was made for this pattern and is not a copy of an original. The position of the sun and the somewhat vertical lines are the most distinct differences from the originals.
Buckle measures 63.5mm
Editor note: Plate was obtained directly from S&S Firearms, as a sample of their production to be used in this presentation.
---
[Return to relicman main page, (real stuff), enough of these fakes!]