---



Fakes, reproductions, replicas,
an investigative report, by Harry Ridgeway
---
Fakes, reproductions, replicas,
Ohio OVM plates, Federal plates 551 to 555
Disclaimer: by clicking onto this page you are expressly accepting the terms of the disclaimer explained fully on the fakes main page.
---
---
The OVM came in two sizes, is die stamped and lead filled.
---
F1488 OVM boxplate, large size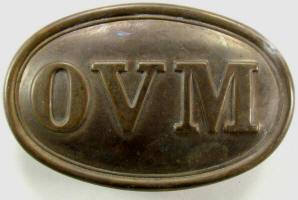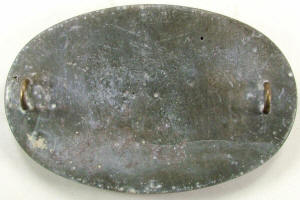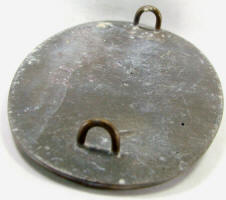 This one is too close for my liking. This example is overfilled and uses brass hooks. I also got this out of a sutler box for $10, so know for sure this is repro. I also put it outside and it easily patined. One should assume that this may exist as an example and I doubt if all are overfilled. It is a dangerous example and I do not know who made it. Do not go by patina, as this one turned dark with not much effort. It is fake, I am certain.
Buckle measures 54mm x 84mm
Editor note: Plate was obtained directly from a sutler, and was sold as a re-enactment supply.
---
F1264 OVM oval buckle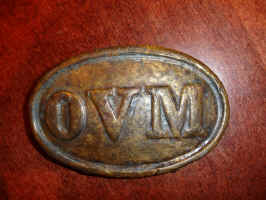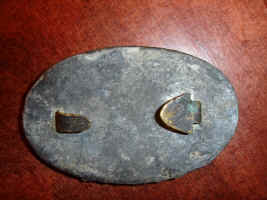 Source: this buckle was submitted to me for second opinion. The person who sent me the pictures had already condemned the buckle.
Editor note: I told my source that I agreed with his diagnosis. I think this may be a die stamped plate, but the die is not quite right and the hooks are not right either. I cannot tell from the pictures which size this is, but this is the wrong die for the small size buckle, and the hooks are wrong, and the patina stinks, there is not much to like about this buckle.
---
[Return to relicman main page, (real stuff), enough of these fakes!]