---



Fakes, reproductions, replicas,
an investigative report, by Harry Ridgeway
---
Fakes, reproductions, replicas,
Massachusetts sword plate pattern 700
Disclaimer: by clicking onto this page you are expressly accepting the terms of the disclaimer explained fully on the fakes main page.
---
---
Original is finely made, was probably cast then followed with a die stamping to sharpen it. All are made prewar, tongues are brazed.
---
F1113 Massachusetts sword plate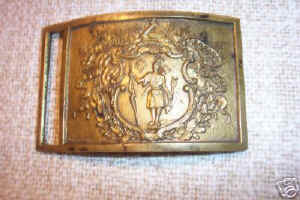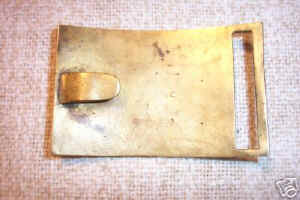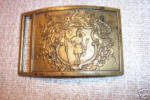 "RATHER SCARCE MASS.MILITIA STATE SEAL PLATE FROM THE 1850'S THAT WAS ALSO USED DURING THE WAR. THIS IS A BEAUTIFUL NON- DUG PLATE WITH A FULL STANDING INDIAN WITH BOW ON THE FRONT WITH WREATH AND MOTTO. BACK HAS NARROW TONGUE. JUST HAD THIS "BLESSED" BY SOME OF THE EXPERTS IN THIS FIELD. GREAT PIECE!"
Source: ebay auction by jhmorgan 6/16/06 "SCARCE CIVIL WAR MASSACHUSETTS BELT BUCKLE / PLATE Item number: 6637136695"
Editor note: This is a reputable seller but I respectfully disagree with his assessment of this buckle. I had occasion to examine this piece, it measures 55.2mm which is smaller than the originals. The pictures do not entirely settle the question, but I believe the detail on this plate may be a good bit less crisp than the original.
---
F1260 Massachusetts sword belt plate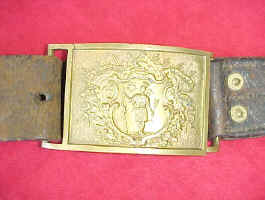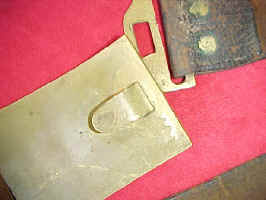 "Civil War MASSACHUSETTS Officer's Sword Belt and Plate
This is a nice high quality non-excavated sword belt plate worn by an officer of a Massachusetts Militia Officer during the Civil War. The plate is benchmarked on the back 424. The belt is a marriage and for affect as the keeper is off slightly but they fit together. This plate is listed in Odonell's reference work on belt plates page #420. Condition is excellent on this plate. There is no reserve and low start for this rig. Thanks for your interest and bid"
Source: a webpage
Editor Note: I examined this plate. Detail looks good and hook looks good, however this buckle was considerably smaller than other examples analyzed. I did measure it and noted the discrepancy at the time but can't put my hands on my notes of the examination so presume I will not find it at this point., and therefore cannot verify the measurements. I also note that the bench mark number has very much bled through to the front, so this buckle is also much thinner than the original. I do not know what the source of manufacture is but am doubtful of this buckle.
---
[Return to relicman main page, (real stuff), enough of these fakes!]