---



Fakes, reproductions, replicas,
an investigative report, by Harry Ridgeway
---
Fakes, reproductions, replicas,
Confederate knives
Disclaimer: by clicking onto this page you are expressly accepting the terms of the disclaimer explained fully on the fakes main page.
---
---
Knives are a very complicated subject, I do not have space time or energy to try to describe all the fake knives out there. This will be a tiny sample of things that I have picked up.
---
F1184 D Guard Bowie knife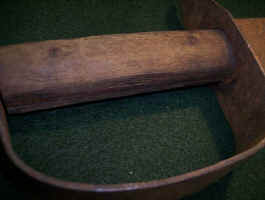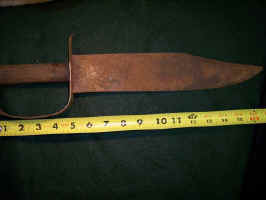 "Up for auction is a very nice Civil War Bowie Knife. The knife you will be getting is in good shape. The knife is has a very heavy rust and heavy pitting. The bowie knife measures 17 inches long. The D-Guard Bowie knife was the favorite to be carried in the civil war.SEE PICTURES. The blade measures 12.5 inches long and in great shape very solid with the handle. On one side of the blade is 1861. See pictures. I am putting no reserve on it, so good luck in bidding. Please see my other auctions.This would be a great peice for your collection. Please email any questions to me b-4 bidding."
Source: ebay auction by budand3 8/5/06 "17 In. 1861 Civil War D Guard Bowie Knife OLD Item number: 220012078968"
Editor note, does this piece of junk need an explanation?
---
F1205 Boyle & Gamble knife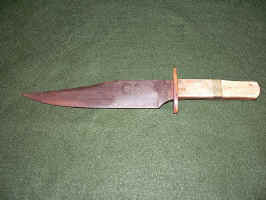 "Boyle Gamble & McAfee produced weapons for the Confederates during the Civil War. Boyle, Gamble & MacFee were strictly under government contract which leads me to believe this knife was made for a Confederate officer. This knife is in fantastic condition and is tight. Deep clear hallmark easily viewable. Bone handle with brass pommel and crossguard shows a nice dark patina. Blade is very strong and has a nice "in the blade" patina. CS etched onto the blade. Knife is 14" long and has an 9" blade. You won't find a better example. A great addition to your collection. Please email me with any questions before you bid.
ISALEFORYOU is a consignment business bringing our customer's antiques to the internet. Please check back often!
Shipping & handling to the USA is $8 well packed. I accept Paypal (confirmed address only), money order, or cashier's check. Insurance is required for $1.50 Ask all of your questions before you buy. Thank you for your patronage."
Source: ebay auction by isaleforyou ( private ) 10/20/06: "Antique Boyle Gamble Officers Bowie Knife Civil War Era Item number: 200036847038
Editor note: This seller sells on ebay auction under "Private Auction". It is highly doubtful this piece can be shown to be authentic.
---
[Return to relicman main page, (real stuff), enough of these fakes!]