---



Fakes, reproductions, replicas,
an investigative report, by Harry Ridgeway
---
Fakes, reproductions, replicas,
Confederate swords, CSA
Disclaimer: by clicking onto this page you are expressly accepting the terms of the disclaimer explained fully on the fakes main page.
---
---
Confederate manufactured swords are quite scarce. The Albaugh reference is the best source for information on them. Look at the details, if the match is not right, the sword is not likely to be real.
---
F1152 Confederate Cavalry Sword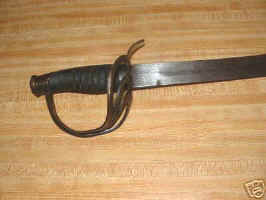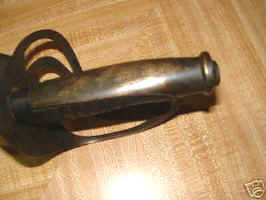 "SWORD IS IN OVERALL GOOD CONDITION. BLADE IS IN ROUGH SHAPE. IT IS VERY CRUDE HAS ALOT OF PITTING AND IS VERY DULL. ON ONE SIDE IT IS STAMPED NASHVILLE PLOW WORKS AND ON THE OTHER SIDE IS STAMPED CS 1862. THE HANDLE THE GAURD AND LEATHER WRAP ARE IN GREAT SHAPE. THE GAURD IS ENGRAVED ACROSS THE TOP. IT IS HARD TO MAKE OUT BUT I THINK IT IS SOMETHING LIKE LT. ?// 4TH ALABAMA CAVALRY 1862. OVERALL LENGTH OF 42 IN. BLADE IS 37 IN. METAL SCABBARD HAS BOTH RINGS AND IS IN GOOD CONDITION. WOULD MAKE A GREAT DISPLAY. LOW OPENING BID AND NO RESERVE"
Source: ebay auction, shenandoah1862, 7/1/06, "CONFEDERATE CAVALRY SWORD AND SCABBARD Item number: 290001393742
Editor note: This seller sells on ebay auction under "Private Auction". It is highly doubtful this piece can be shown to be authentic. This one seems way off the mark.
---
F1214 CSA sword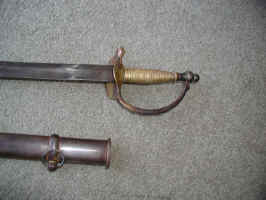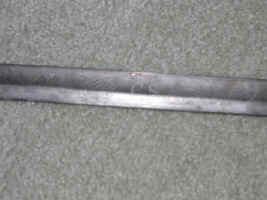 Editor Note: Pictures of this sword were submitted to me for evaluation. I told the owner that I thought the sword was fantasy.
---
[Return to relicman main page, (real stuff), enough of these fakes!]