---



Fakes, reproductions, replicas,
an investigative report, by Harry Ridgeway
---
Fakes, reproductions, replicas,
Swords & sabers by Millard
Disclaimer: by clicking onto this page you are expressly accepting the terms of the disclaimer explained fully on the fakes main page.
---
---
Millard is the smaller maker of swords, Model 1860 enlisted Cavalry saber is the only pattern produced.
---
F1235 Millard officer sword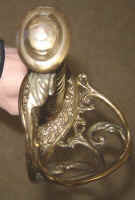 Source: Pictures of this sword were submitted to me for evaluation. The owner said that he found this in a shop in Colorado.
I also asked John Thillman to look at this and he gave the following comment:
"If you go to page 365 of my book and read the "Caution" paragraph this is one of the hilts that I discuss. It is newly cast and to me is obvious because of the lack of fine finishing on the knuckle bow as it enters the pommel. Also the tang shows evidence of being newly done where it comes through the pommel cap. Blade is real but too bad about screwing up a nice M1860 cav saber with a scarce maker. Keep your distance from this piece of c%&*. John"
Editor note: I informed the buyer that although the blade could be authentic, it is highly doubtful that much of the rest of it is.
---
[Return to relicman main page, (real stuff), enough of these fakes!]