Civil War Relicman,
Harry Ridgeway

Winchester, Virginia USA, changed hands 70 times in the Civil War!
authentic Civil War relics, bought and sold




http://relicman.com/


This sales listing updated December 27, 2016
Civil War relics, Relicman sales catalog

All the rest, not listed elsewhere.
All items listed are guaranteed authentic to the Civil War or as otherwise described.
Any excavated relics have been recovered from private property with owners permission.
Any artillery or ordnance relics have been disarmed and rendered safe.
All weapons are pre 1898 antique weapons, and are exempt from Federal regulation, no licenses or permits are required.
M0168

...

Insignia, Fourteenth Corps, acorn




Stamped brass, attachment device missing Recovered: Kernstown Virginia


For Sale

.....................$200.
M0266

...

Insignia, Fifth Corps, maltese cross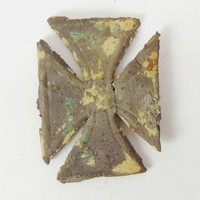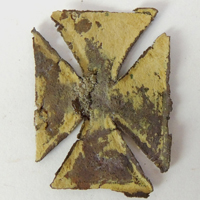 Thin stamped brass, was probably intended to be sewn on the uniform, (24mm X 33mm)


For Sale

.....................

Sold

.
M0284

...

Insignia, Star cape pin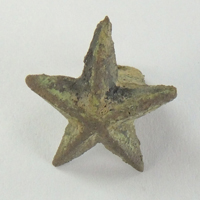 The star pin was used to connect a cape. Unusually small pattern. Recovered: Richmond, Petersburg, Virginia campaign.


For Sale

.....................$150.
M0636

...

Star cape pin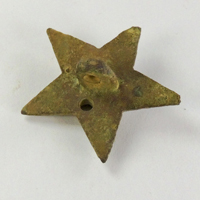 This star was a private purchase fastening device for an officer cape. Recovered: Charlie Cline, Maryland 1862 campaign.


For Sale

.....................$175.
M0985

...

Officers shoulder boards, Lieutenant, likely militia 1840's or 1850's

.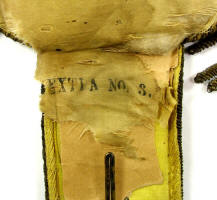 No rank insignia is indicated, these were likely intended for low rank officer, lieutenant. Manufacturer is not determined, these are believed to date to 1850's or earlier and may have been intended for a militia unit. Matching epaulettes, brass and cloth, back of each is marked "EXTRA NO 3". Matching Pair


For Sale

.....................$200.
M0994

...

Shako infantry hatpin issued to New York Excelsior Brigade, or Pennsylvania, or Massachusetts units

.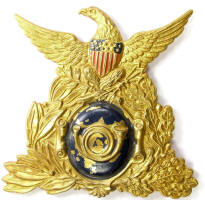 The Federal government purchased a quantity of French "Chaussier" style uniforms from France that apparently included these large shako hats as well as cast white metal buttons (Albert PA48) and Regulation 1855 riflemen buckles. These uniforms were issued to New York, Massachusetts and Pennsylvania units during the Brandy Station campaign. The large shako hatpin bears patriotic eagle, and infantry horn modeled after the French style and it, along with the uniform hat and buttons, likely originated in France. The very large hatpin is stamped, attachment pins were stiff wire and soldered, pin was originally gilded and portions lacquered with blue and red paint of poor quality. Many parts of these accoutrements were found at camps in the region of Brandy Station thought to be attributed to these units, apparently having been discarded. Pin measures 105mm X 103mm. Nondug hatpin fully intact with gilding and colorful ornamentation.
Ref: Crouch Artifacts pg. 150 item 1 (hatpin)


For Sale

.....................$350.
M1047

...

Model 1858 canteen with concentric rings, Hall Rohrman, Philadelphia

.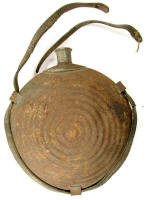 The model 1858 canteen was the most popular canteen of the Civil War period. Some were made with concentric rings for strengthening, these are sometimes referred to as the "bulls eye" pattern. Spout is marked "J. HALL ROHRMAN PHILA". Joseph Hall Rohrman, Philadelphia, Pa is listed as making canteens 1863 and 1864 according to Bazelin & McGuinn. Canteen measures 7.5in. diameter approx. Excellent example of bulls eye canteen, maker identified, strap hooks intact, leather strap is period replacement and is broken, spout intact.
Ref: Sylvia & O'Donnell page 100.


For Sale

..................... $200.
M1194

...

Spur, Model 1859, Federal enlisted, plain style, without groove

.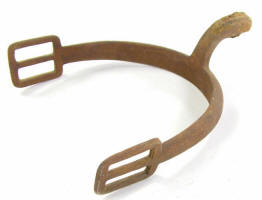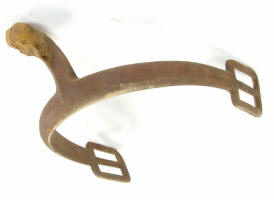 Spur was authorized under the Regulation 1859, and was issued to the enlisted cavalryman, large numbers were used in the 1864 cavalry campaigns. Spur is sturdy construction, exterior bar is rounded, interior bar is flat without strengthening groove, curved and rounded neck is not adorned, rowel was often removed or damaged from use. Dug spur, original bends, remnants of rowel. Recovered Warrenton, Virginia.


For Sale

......................

Sold

.
M1196

...

Bullet mold

.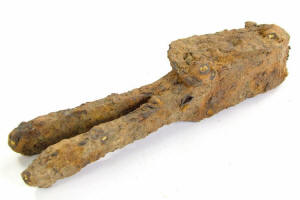 Likely a Colt .36 caliber, however it would need to be cleaned and limbered to determine the calibration accurately. Recovered: Warrenton Virginia.


For Sale

..................... $100.
M1228

...

Bullet mold, Colt patent, brass mold for .31 cal bullet and ball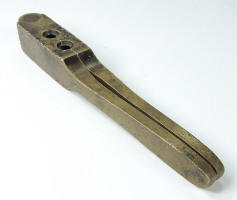 Colt patent, brass mold for .31 cal bullet and ball. Marked "COLT's / PATENT"


For Sale

.......................

Sold

.
M1253

...

Insignia, Number 6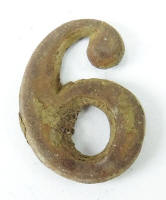 Small size insignia, number "6" or "9" intended for regimatal designation on a hat. Pin is whole, hooks are missing. Recovered: not known.


For Sale

..................... $75.
M1268

...

Federal spur




Federal spur with groove and flourish.
Recovered from Shenandoah Valley 1864 campaign.


For Sale

....................

Sold

.
M1271

...

Canteen smooth sided

.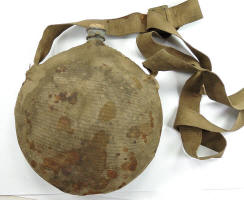 Canteen is whole, with cover, cover is stenciled "31 / B5", meaning is not determined, Hooks are of type used in the Civil War, cover and straps may be Indian War period, all three hooks present, spout intact, no maker mark


For Sale

.....................

Sold

.
M1281

...

Company B




Recovered Charles Town Virginia (now WV) area


For Sale

........................

Sold

.
M1283

...

Brass stirrup US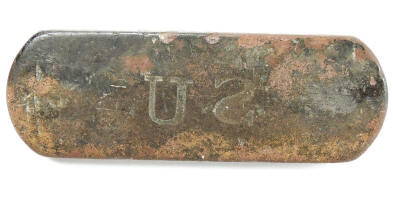 Picture is not backwards, "S" is stamped backwards. Recovered Charles Town Virginia (now WV) area. .........


For Sale

..................... $200.
M3063

...

Martingale plain face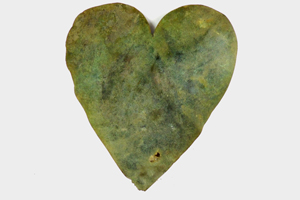 This was ornamental fixture on harness. Sheet brass. Recovered: Terry Texas Rangers camp in Tunnel Hill Ga.


For Sale

........................

Sold

.
M3256

...

Texas martingale or saddle skirt ornament




Stamped white metal, piece was ornamentation for saddle skirt, manufactured for Dragoons in Texas during the Mexican War.This one does not appear to have had a device at the bottom and likely was intended to be used on a saddle skirt.Piece is complete, three sheet metal hooks for attachment intact.Recovered: Shiloh Tennessee Ref: Crouch Horse Equipment pg 58 item 4 & 5


For Sale

..................... $350.
Back to relicman.com main Page
Place an Order