---
The Civil War Relicman,
Harry Ridgeway.

Winchester, Virginia USA (changed hands 70 times in the Civil War!).
authentic Civil War relics.

relicman.com.
---
---
Ridgeway Reference Archive, Civil War relics.
uniforms.
This is the "Ridgeway Reference Archive", a research tool for educational purposes only, and is provided at no cost to the reader. Some of the relics listed are retained in the author's collection, most reside in other collections and are not owned by the author. None of the items listed in this section are for sale, please refer to relicman.com sales listings for items offered for sale. This is a work in progress, I list items as I get to them, there are many patterns that are not listed yet, this list will be regularly updated as I get pictures and descriptions for more items. I will also correct mistakes, so if you see any please tell me.
All items listed are believed to be original and authentic to the Civil War or as otherwise described.
Any excavated relics have been recovered from private property with owners permission.
Any artillery or ordnance relics have been disarmed and rendered safe.
Any weapons are pre 1898 antique weapons, and are exempt from Federal regulation, no licenses or permits are required.
This information is available for research purposes, pictures may be used by permission only.
---
---
M1058 Infantry officer uniform, 1840's.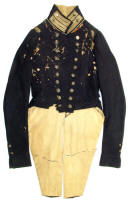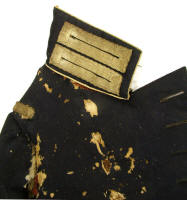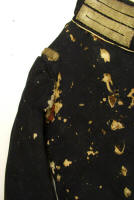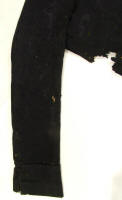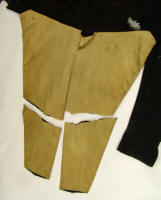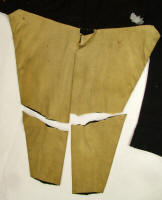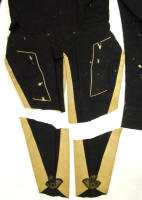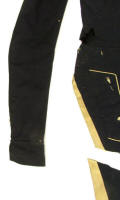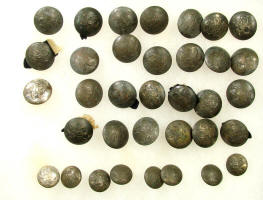 Infantry officer jacket is double breasted, there are ten silver eagle I buttons down each side. The flaps were designed to either overlap or fold back thus exposing all 20 buttons. Collar is silver braided two small buttons adorned each collar. The sleeve is tapered, two more small buttons on each sleeve. The tails on the back each contain a silver braided infantry insignia, and 8 coat size buttons.
This jacket was recovered from an attic from Fauquier County, Virginia. The modern owner contacted me to sell a few "old" buttons that had been removed from a moth ridden jacket that was "no good". Some of the buttons were cut from the cloth and the tails were cut, presumably to "save" the braided infantry insignias. Once explained that the jacket was potentially more historically important and valuable than the buttons, it was literally retrieved from the plastic bag being left for trash pickup! The jacket does indeed have moth damage, and the butchery job of removing the buttons further damaged it. However the cloth is solid showing little wear and the stitching is fully intact. This jacket can be fully restored and what an impressive thing it is, this dark blue double breasted jacket with 36 silver buttons.
The jacket has spots for 36 buttons, 35 were recovered, one is missing. There were 28 coat size, 10 down each side of the double breast, and 8 on the tails. There were 8 small size, four on the collars and four on the sleeves. These buttons are all matching, all have shanks, they are low convex eagle I buttons, with Young Smith , New York backmarks, these were manufactured before 1845 based on what we know about the button maker. The buttons are fully silvered, and appear black. Two were polished by the owner for photography, the rest as as found. The black is silver tarnish and the two that are polished can be re-tarnished easily enough or all of them can be cleaned and polished.
Infantry officer jacket, as found, with 35 silvered eagle I buttons.
---
---