---
The Civil War Relicman,
Harry Ridgeway.

Winchester, Virginia USA (changed hands 70 times in the Civil War!).
authentic Civil War relics.

relicman.com.
---
---
Ridgeway Reference Archive, Civil War relics.
Weapon related, bullets and cartridges.
This is the "Ridgeway Reference Archive", a research tool for educational purposes only, and is provided at no cost to the reader. Some of the relics listed are retained in the author's collection, most reside in other collections and are not owned by the author. None of the items listed in this section are for sale, please refer to relicman.com sales listings for items offered for sale. This is a work in progress, I list items as I get to them, there are many patterns that are not listed yet, this list will be regularly updated as I get pictures and descriptions for more items. I will also correct mistakes, so if you see any please tell me.
All items listed are believed to be original and authentic to the Civil War or as otherwise described.
Any excavated relics have been recovered from private property with owners permission.
Any artillery or ordnance relics have been disarmed and rendered safe.
Any weapons are pre 1898 antique weapons, and are exempt from Federal regulation, no licenses or permits are required.
This information is available for research purposes, pictures may be used by permission only.
---
---
M1048
Package Burnside

.54cal

cartridges
.

The Burnside carbine employed an unusual cone shaped metal cartridge for use in a percussion system. Manufactured by Burnside Rifle Co., Providence, Rhode Island, General Ambrose Burnside, was an official in the company before the war but was not involved in wartime development of the weapon.

The bullets were packed in paper bundles of ten bullets, secured with string. Paper is marked: "10 Cartridges / WITH 12 CAPS / FOR THE / BURNSIDE / BREECH LOADING RIFLE. / Patented March 25, 1856. / CALIBER 54/100 / MADE BY THE / BURNSIDE RIFLE CO. / PROVIDENCE, R..I.' Paper container with all 1

0 bullets

is original paper is very fragile and torn, the caps are probably missing but all the bullets appear to be present, two bullets have fallen outside of the package, these packages are rare.
Reference: Mason & McKee Cartridge 85

, bullet

M&M 119

& 309

,

Thomas & Thomas

89
.
---
---
M1049
Package

Colt 44
cal. cartridges, manufactured by Mount Pleasant Cartridge Co

.

The Colt six shot revolvers were popular in the Civil War and were a very effective weapon in a close fight. The bullets are individually wrapped in paper cartridge and one round, six bullets, packed together in a folded paper container, both the container and the cartridges were coated for water proofing. Package is marked "PRESSED WATERPROOF/ CARTRIDGES / For COLT'S ARMY PISTOL / Caliber 44/1400/ Manufactured By The / MOUNT PLEASANT CARTRIDGE CO. / (address follows but is unreadable)".

Package

of six unopened original paper superb condition

.


Reference: Mason & McKee

bullet

M&M

480 & 632

,

Thomas & Thomas

32, 33, and 34

.
---
---
M1050
Maynard cartridge tin with tape primers
for the Model 1855 musket system

.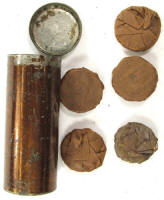 Maynard developed a system for the new (1855) muskets that included a roll of tape with chemically treated percussion caps. The Model 1855 locks were fitted with a hump to contain the roll with a flap to cover, the paper was supposed to roll out similar to a modern cap pistol and ignite the charge as the musket was fired. This was an alternative to the conventional nipple using a brass percussion cap. The system did not work well at all and was completely abandoned when the next generation of muskets, Model 1861, was produced. In fact the Maynard feed was disabled on most model 1855 muskets. Ten strips of the paper cartridges were rolled in paper and delivered in this metal container, which is coated, and was not marked. Original container, with five rolled strips, there were ten originally.

Ref: Flayderman 9A-307

for Model 1855 and

9A-268

for

Remington
conversions of flintlocks

.
---
---